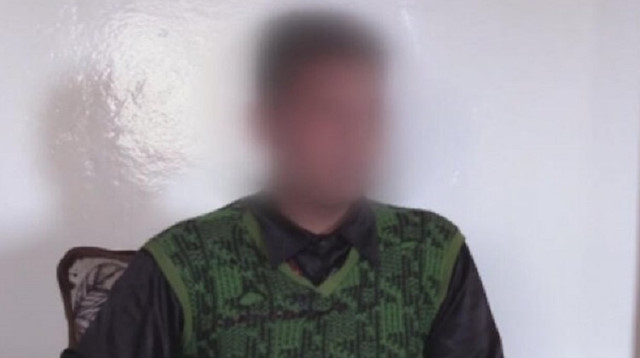 A teenage boy forced to join the ranks of the YPG/PKK terrorist organization fled during Turkey's anti-terror operation in northern Syria and surrendered to the Syrian National Army.
Muayyed Shabo, 14, was living in Katof village in Syria's northeastern Ras al-Ayn province before the YPG/PKK terrorists forcibly recruited him.
Shabo said YPG/PKK terrorists came to his village and forced all girls and boys to join the terrorist organization.
"The terrorists forcibly took us to their camps and they taught us how to fight," he said.
"The terrorists were recruiting anyone who could carry a gun. There were 84 children aged 12-14 in the camp," he added.
Shabo said the terrorists gave weapon training to turn children into fighters.
"When the children could not keep up with the training, the terrorists forced them to dig tunnels," he said.
He said the terrorists spread propaganda using the photos of Abdullah Ocalan, the jailed leader of the PKK terrorist organization.
"The terrorists told us how the PKK was established and how they will create a Kurdish state in Syria," he said.
Shabo shared how he fled the terrorists.
"We set off for Ras al-Ayn. When we arrived at the al-Mnajeer area, we changed our military uniforms with civilian clothes. We were waiting for weapons, when I escaped with my friends and hid in a ditch," he said.
Shabo said he reached his home after midnight and hugged his mother, crying the whole time.
"When I heard that the Syrian National Army liberated the villages from YPG/PKK terrorists, I went to them and told my story. Because I knew that I am innocent," he said.