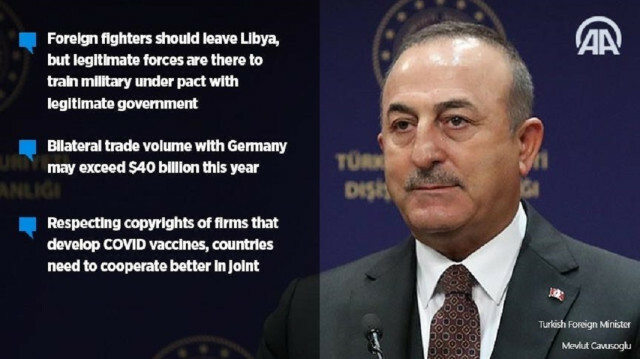 Foreign fighters and mercenaries should leave Libya, but these forces should not be confused with legitimate forces training Libya's military under a pact with the legitimate government, Turkey's foreign minister said Thursday.
"There are many foreign fighters and mercenaries in Libya. We agree on their withdrawal," Mevlut Cavusoglu told a joint news conference with his German counterpart Heiko Maas in Berlin.
But he stressed that Turkey's military training support for Libya's legitimate government cannot be compared with these fighters and mercenaries.
He also warned that calling on Ankara to end its support for Libya's government would in fact undermine this legitimate government.
The "agreement between the two sovereign countries addresses essential needs of Libya with regards to military training and consultancy, (and) ending this support would not be in favor of Libya," said Cavusoglu.
Calls from third parties to end the "agreement between the two countries would not be the correct approach," he added.
The 2019 security cooperation agreement between Turkey and Libya has been credited with helping end the country's civil war and promoting peace and unity under the legitimate government.
Cavusoglu also stressed that Libya's newly formed government should be supported to help prepare Libya for elections later this year and meet public needs.
Libya has seen positive developments since Feb. 5, when rival parties agreed on a unified new executive authority to govern the country in the runup to national elections this December.
Libyans hope the new government will end years of civil war that have engulfed the country since the ouster of strongman Muammar Gaddafi in 2011.