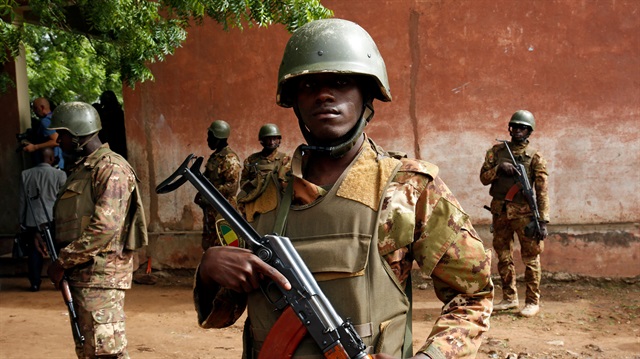 At least four soldiers and eight militants were killed in an ambush late Tuesday in central Mali, local media reported on Wednesday.
Unidentified men ambushed a security convoy near Nampala, in the Segou region, according to Maliactu.net.
Local media reported that the convoy had been protecting an election mission.
Citing military and administrative sources, Maliactu said that two vehicles of the Malian army and their occupants are still missing.
The attack comes as the country awaits the results of the weekend general elections.
Last Sunday, a similar attack targeted a patrol of the Malian Armed Forces in the same region, killing one Malian soldier.
The military convoy was ambushed "by the Khatiba Ansar Eddine terrorists in the Samoumi forest, Macina district, Segou region," the Defense Ministry said at the time.
The army also said that it had neutralized 11 terrorists.
The West African country has been marred by violence since 2012.
On July 17, the Office of the UN High Commissioner for Human Rights (OHCHR) said at least 289 people were killed in some 99 incidents this year in Mali.
The UN last year declared the country the most dangerous for UN peacekeepers in the world. Since 2013, more than 150 UN peacekeepers have been killed.