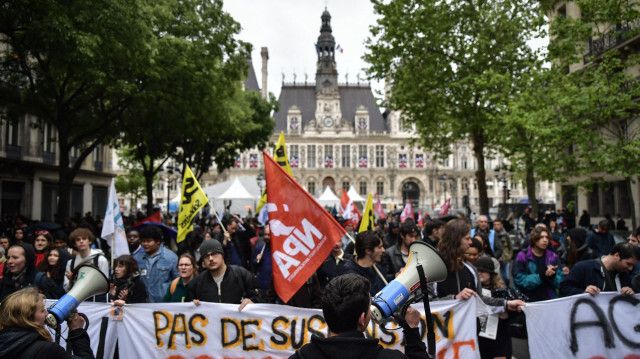 France is preparing for a new day of mass mobilizations against the government's pension reform on Tuesday, according to the interior minister.
French trade unions and workers are insisting on their objection to the government's pension reform, which was adopted on March 16 and is set to enter into force on Sept. 1.
Protests and massive walkouts have been held across the country since January, when the government revealed the details of the plan.
The latest set of protests is planned for Tuesday, and a total of 11,000 police officers will be deployed in the country to intervene in possible troubles, Interior Minister Gerald Darmanin said on Twitter on Sunday.
Paris protests will be secured by 4,000 police officers, he also said, adding that their aim is to prevent foreign far-left groups from infiltrating the parades.
Acts of violence stained the protests over the past months, and street furniture, various buildings, dumpsters, and trash were vandalized.
Police officers arrested hundreds of suspects.
The centrist opposition group LIOT in the French parliament has proposed a bill to repeal the pension reform.
In their proposed bill, the group suggested an extra tax on tobacco products as a solution to compensate for the financial shortfall caused by the cancellation of the pension reform.
The bill will be examined by members of parliament on Thursday.
President Emmanuel Macron signed the pension reform into law on April 14 after the Constitutional Council completed its review, despite demands from trade unions to drop the measure that has triggered months of protests.
The law raised the retirement age from 62 to 64 by 2030, requiring at least 43 years of service to be eligible for a full pension.
The government unveiled the proposal in January and it was taken up for a parliamentary debate the following month as millions took to the streets to oppose it.
The unrest intensified when Prime Minister Elisabeth Borne, after consulting with Macron, decided to use special constitutional powers to adopt the bill without parliamentary approval in March.
The decision was motivated by concerns that lawmakers would be able to stymie the reforms because the government lacked an absolute majority in parliament.
4 ay önce