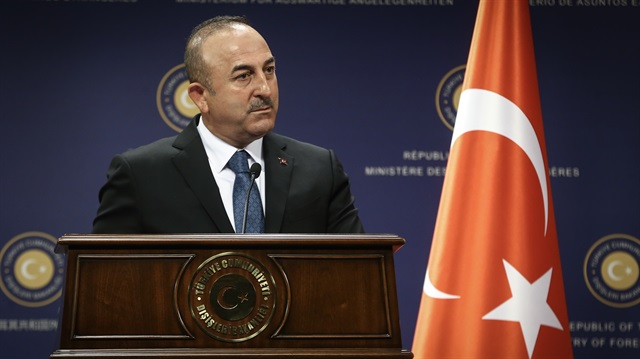 Turkish Foreign Minister Mevlüt Çavuşoğlu on Friday said France's offer to mediate between Turkey and the PYD/PKK-led SDF is "unacceptable," after French President Emmanuel Macron met with a delegation from the terror group on Thursday.
"France is employing double standards. This terror group may not have attacked France, but the YPG and PKK are responsible for the deaths of 40,000 people in Turkey," said Çavuşoğlu.
"There is no difference between the YPG and PKK. France knows this well but is ignoring it. France is not honest. Who are you to mediate between Turkey and a terror group?" he added.
President Recep Tayyip Erdoğan also rejected France's offer, saying: "If the remark [by the France presidency] that 'we can be a mediator between Turkey and SDF' is true, it far exceeds the limit of the person who says that."
The PYD/PKK and SDF are Syrian branches of the PKK, recognized by Turkey, France, and the EU as a terrorist group. Macron also claimed the SDF had "no operational link with this terrorist group" -- meaning the PKK -- adding that "a dialogue could be established between the SDF and Turkey with the assistance of France and the international community."
"France is siding with terrorists. The aim of the YPG is not to fight against Daesh, but to divide Syria. The PKK and YPG has exiled many Syrians and seized their property. France has unfortunately lost its objectivity," Çavuşoğlu said.
US withdrawal from Syria
The foreign minister also commented on U.S. President Donald Trump's remarks claiming that the U.S. will be leaving Syria "very soon."
"U.S. President Trump has said that he would withdraw from Syria before. We saw that his statement yesterday was merely personal," Çavuşoğlu said.
The U.S. will be leaving Syria "very soon," President Donald Trump said Thursday.
"We'll be coming out of Syria like very soon. Let the other people take care of it now," he told supporters during a speech in Ohio about his infrastructure proposal.
Shortly after Trump made these comments, the State Department said it was unaware of any policy change to pull the U.S. out of Syria.