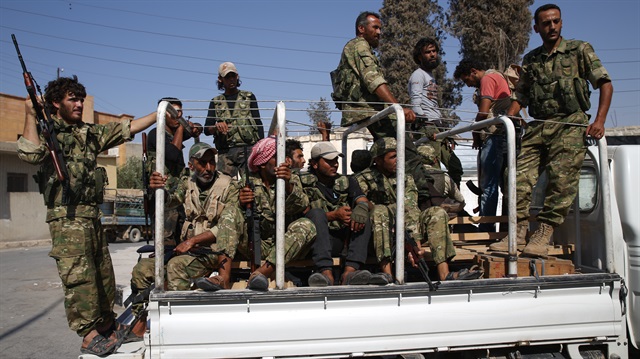 The Free Syrian Army (FSA) has blamed the U.S.-led coalition for failing to provide air support in time to them and the Turkish armed forces during an attack in northern Syria's western Jarabulus late Tuesday.

"We could have lost many people," an FSA source, who spoke on condition of anonymity due to safety reasons, told Anadolu Agency Wednesday.

"Americans had promised to provide air support in case of an emergency, but they did not.

"They should have helped; however, the air intervention came in late because of them. Turkish jets arrived in the last minute," the source added.

On Tuesday evening, Turkish soldiers were wounded and a tank was also slightly damaged in a rocket attack carried out by terrorists in western Jarabulus at around 7 p.m. local time (1600 GMT) Tuesday, according to a statement issued by the Turkish military.

According to the FSA source, Turkish soldiers had sought air support from coalition forces at the Incirlik airbase in southern Turkey immediately following the attack. However, no help arrived from Incirlik, where the U.S.-led coalition forces are based. Coalition forces appeared to carry out strikes three hours after Turkish jets started shelling terrorist targets in Jarabulus, the source said.

Last week, Turkey launched Operation Euphrates Shield, which is aimed at improving security, supporting coalition forces and eliminating the terror threat along Turkey's border through Free Syrian Army fighters backed by Turkish armor, artillery and jets.

Turkish authorities repeatedly said the operations would continue until the terrorism threats in the region are completely eliminated.