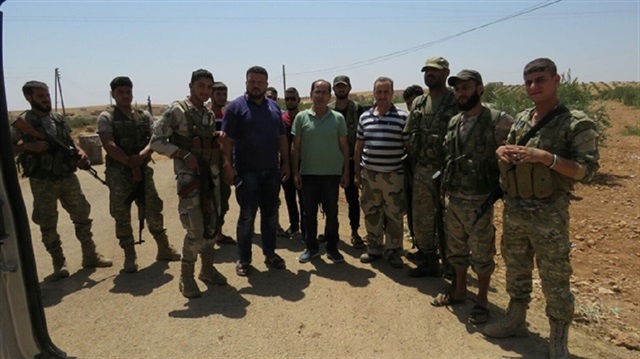 The Kurdistan Workers' Party (PKK) and Democratic Union Party (PYD) terrorist organizations which are occupying Turkmen neighborhoods have increased attacks. The PKK/PYD have changed the local names of the neighborhoods and unfurled their flags and photographs of their ringleader in the neighborhood squares.
Commander Mahmut Süleyman of the Sultan al-Fatih Brigade, a Turkish Armed Forces (TAF)-backed Free Syrian Army (FSA) member, said the tension in the region was rising.
PKK/PYD troubling Turkmens
The Haydariye, Holluk, Bostanpasha and Sheikh Hidir neighborhoods in Aleppo's center and the Maarata, Kefer Naha, Meryemiyn, Culbul and Marenez neighborhoods on the Afrin-Azaz line are still under PKK/PYD occupation.
The terrorist organizations arrested 700 young Turkmens and Arabs in the past month with the excuse of military service. Many Turkmen houses have been turned into headquarters of the PKK/PYD. The terrorist group remanded over 40 civilians on the pretext of carrying out spying activities for Turkey in the past year.
Operation to end PKK/PYD
Commander Süleyman said the biggest threat to the people of Syria and Turkey was the U.S.-backed PKK. He added that a military force of 15,000 people were ready for the Afrin operation and were awaiting orders from Turkey.
The opposition commander said that many districts, especially Manbij, Tel Abayd and Suluk, would rise against the PKK in support of Turkey's Afrin operation. The possible Afrin operation would be the beginning of the end for the U.S.-backed PKK.
Tribes ready to annihilate PKK
As the PKK/PYD's pressure on civilians increases, so too do attacks on senior terrorist members. According to Munzir el Sellel, a Manbij Residents Assembly member, 13 PKK were killed in Afrin and Manbij in the last two months.
El Sellel reported that the tension in the region is rising, and tribes are preparing for a major uprising. He added that there were major attacks targeting two senior PKK members in November.
El Sellel believes the Syrian public is on the brink of a major resistance against the PKK/PYD, as they will not stay quiet in the face of persecution much longer.