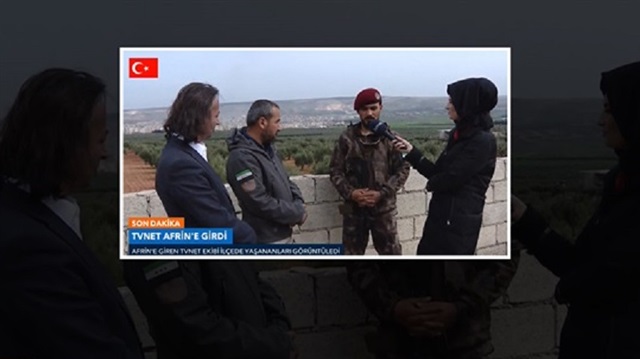 The Turkish Armed Forces (TAF) and Free Syrian Army (FSA) early on Sunday liberated Afrin's city center, which had been a major hideout for the Kurdistan Workers' Party (PKK)'s Syrian branch, the PYD, since 2012, as part of Operation Olive Branch.
Yeni Şafak and TVNET Editor-In-Chief İbrahim Karagül was among the crew that entered Afrin following its liberation. The commanders of the Sultan Murad Division and Hamza Division, which are units within the FSA, evaluated the developments in Afrin.
"Our first aim was to clear Jindaris. Jindaris was the first defense line of the PKK/YPD. Once we fought there and captured Afrın's south, we advanced toward Afrin's city center. The PKK/PYD did all they could to retake the hills we captured but we defended these lands as the Hamza Division," said Seyf ab Bekir, the commander of the Hamza Division.
"The PYD/PKK started to use civilians as human shields. They used civilians to stay in Afrin, so we halted the operation for a few days. We planned for the exit of civilians and then took action," he added.
The Hamza Division commander stated that the terror group had taken young girls and boys forcing them to take up arms.
Turkey launched Operation Olive Branch jointly with the FSA on Jan. 20 to clear terrorist groups from Afrin in northwestern Syria amid growing threats posed from the region.
Villages captured one by one
"We started this operation from Bulbul. Bulbul, Jindaris, Rajo, Sheikh al-Hadid and Shallol are the most important settlements of the region. We captured these areas in the first days of the operation. We dealt critical blows to the PYD in the early days, and they had major losses in the first month," said the Sultan Murad Division commander.
"We formed a new plan relying on the experience we gained from Operation Euphrates Shield. We advanced with a new force of 1,300 together with the TAF toward the Midanki Dam. In 20 days, we reached the door of the east of Afrin. The PYD lost all its strength. The villages were captured one by one," he added.
A total of 3,647 terrorists have so far been neutralized in the operation. The commander also divulged details regarding the entry into the Afrin town center.
"Another unit made its way toward us from the east. We waited nearly a week. There were many civilians inside. They started releasing civilians in the last week. We took those civilians and relocated them to border locations. We gave them food and drink, and took care of them," he said.