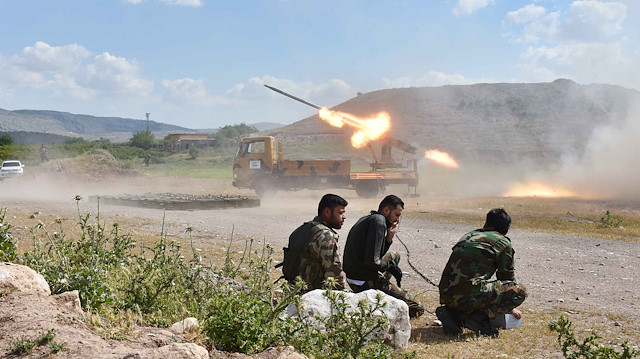 FSA retaliate against YPG/PKK attacks in Syria
Fierce fighting broke out between the terror group YPG/PKK and the Free Syrian Army (FSA) Wednesday evening when the terrorists tried to move into al-Bab, a city in northern Syria, according to reports on the ground.
The fighting occurred in the evening as the terror group YPG/PKK attacked Diklabas, a village west of al-Bab controlled by the Free Syria Army, with heavy weapons. The FSA pushed back the attacks.
Al-Bab was largely cleared of terrorist elements in 2016 as part of the Turkish military's Operation Euphrates Shield, carried out with the Free Syrian Army.
Simultaneously, the YPG/PKK attacked the FSA from Kafer Karshin, an area south of the northwestern city of Azaz, but its attacks were repelled.
The Free Syria Army on Wednesday night also pushed back YPG/PKK attacks in the village of Qimar south of Afrin.
Since 2016, Turkey has carried out two major military operations in northwestern Syria -- Euphrates Shield and Olive Branch -- with the aim of purging the region of terrorist groups.
Syria has only just begun to emerge from a devastating conflict that began in 2011, when the Assad regime cracked down on demonstrators with unexpected ferocity.
Over three decades, the PKK -- recognized as a terrorist group by the U.S., EU, and Turkey -- has taken some 40,000 lives, including women, children, and infants. The terrorist YPG is the PKK's Syrian branch.
4 yıl önce