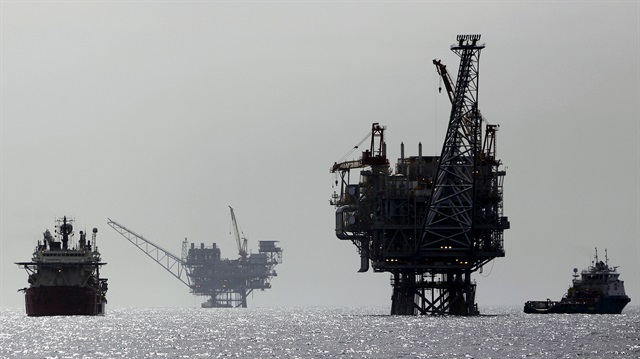 An Israeli gas platform, controlled by a U.S.-Israeli energy group
Robert Frost, the famous American poet, concludes his poem "Mending Walls" with the assertion that "good fences make good neighbors". While this might generally be the case, for both Lebanon and Israel, it seems that neither a fence nor border demarcation can keep these two nations from a recurrent conflict.
In the past, Israel has on many occasions attacked Lebanon due to the latter's inability to prevent non-state actors, such as the Palestinian Liberation Organization (PLO), and later Hezbollah, from launching attacks into its territories. The last such Israeli act was in July 2006, when the Israeli Army launched a 33-day attack against Lebanon and Hezbollah. However, the peace that has dominated the border between these two countries for over 12 years is at risk of collapsing again, but this time the confrontation has moved to the territorial waters.
Just recently, following an arduous and less-than-transparent process, the Lebanese government issued licenses to an oil and gas consortium (Total S.A, Eni International BV, and JSC Novatek) to commence exploration and production in blocks 4 and 9, the latter block being partly disputed by Israel, which claims that 860 sq km of the 1,742 sq km belongs to her. Instead of simply referring this maritime border dispute to international arbitration, Israel's Defense Minister Avigdor Lieberman took to the offensive, describing Lebanon's move as a "very challenging and provocative conduct".
To many, Lieberman's words could be a preamble to an all-out military confrontation that would involve Hezbollah and its regional patron Iran. Yet despite the potential of such an apocalyptic scenario unraveling, most of the signs and current circumstances seem to indicate otherwise. While Israel certainly has the military advantage in any potential showdown, a dispute over a gas field that could be considered somewhat normal is not sufficient reason for Israel to fully mobilize its forces and disrupt the resounding peace that has dominated its northern border with Lebanon for a long time now.
The Syrian crisis with the presence of an assortment of pro-Iranian forces in Syria operating under the direction and support of the Iranian Revolutionary Guards (IRG) is the real threat to Israel, a threat that the Israeli army has until now tried to contain through its use of airstrikes. Yet if such tangible Iranian threats against Israel and the downing of its F-16 fighter jet by the Syrian air defense were not enough to go to war in Syria, would a measly gas field suffice?
For Iran's vessels in Lebanon and the region, the gas war is imminent, with Hezbollah Secretary General Sayyed Hassan Nasrallah assuring that his party and their cache of missiles will rain down on any Israeli attempt to steal Lebanon's valuable resource. Nasrallah's statements were naturally meant to leverage his party's supposed role as the protector of Lebanon against the omnipresent Israeli aggression and to divert attention further from the fact that his forces are fully engaged in defending the Assad regime and thus have put their war with Israel on the backburner.
More importantly, no sooner had the gas dispute arisen between Israel and Lebanon than the United States took swift diplomatic measures to deescalate the situation. Secretary of State Rex Tillerson, who had announced his intention to visit Lebanon, dispatched his acting Assistant for Middle East Affairs David Satterfield to both Lebanon and Israel. Satterfield delivered a clear message that such a maritime dispute need not develop into an open conflict.
Equally, while Israeli Prime Minister Benjamin Netanyahu and his warmongering cabinet waste no chance to hurl threats of using military force, the political reality currently unfolding within Israel is preventing such threats from becoming a reality. As it stands, Netanyahu is under investigation by the police, who have recommended to the Israeli attorney general to press charges against the head of the Likud party for bribery, fraud, and corruption. Consequently, if such a scenario does prove to be the case, Netanyahu will have to step down as prime minister, and the country will head for early parliamentary elections, during which no Israeli politician would be able to advocate going to war.
Nevertheless, while this gas field quarrel might not bring about the next Israeli war, the ever-increasing presence of Iran and its militias in the southern Syrian border with Israel does not bode well for Lebanon. While Hezbollah might prefer to use Syria as a battleground and avoid a showdown in Lebanon, which would afflict its Shiite constituency, ultimately a spillover is inevitable, one that will endanger Lebanon's newly discovered natural resources as well as its people.
*Opinions expressed in this piece are the author's own and do not necessarily reflect the editorial policy of Anadolu Agency
قبل٪ s