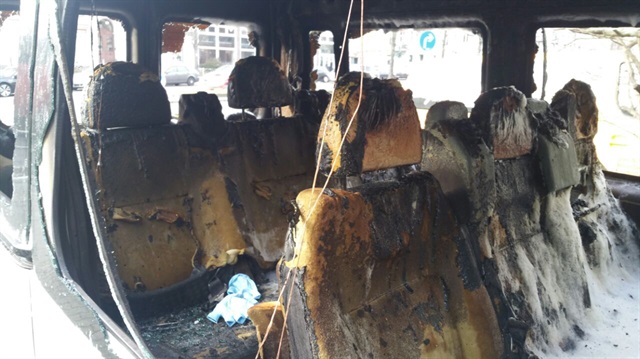 German police on Monday launched an investigation into an alleged arson attack on a vehicle of the Turkish-German Muslim association DITIB in Berlin.
The car, which belonged to DITIB, a moderate Muslim organization founded by Turkish migrants in the country, was burned on Sunday evening on York Street in the Schoneberg district.
Fire fighters came to the scene after a citizen informed the police.
While the car completely burned, another car was also damaged by the flames.
After an initial inspection at the scene, the police opened an investigation against what is an alleged arson attack.
At least 20 mosques run by Turkish-Muslim associations and their vehicles used for various services have been targeted in a number of German cities in the past four weeks.
The attacks intensified after Turkey launched Operation Olive Branch on Jan. 20 to remove PYD/PKK and Daesh terrorists from Afrin.
PYD/PKK supporters launched their first assault on Jan. 21 against the Sultan Alparslan Mosque in Germany's Kassel city, shortly after the Afrin operation began.
On the same day, the terrorist supporters also attacked and vandalized two mosques in Germany's Minden and Leipzig. They damaged the walls of the mosque's association building and wrote the words "PKK", "YPG", "Afrin" and "revenge" on the walls.
Turkey has long criticized NATO partner Germany for not taking serious measures against the PKK, which uses the country as a platform for their fund-raising, recruitment and propaganda activities.