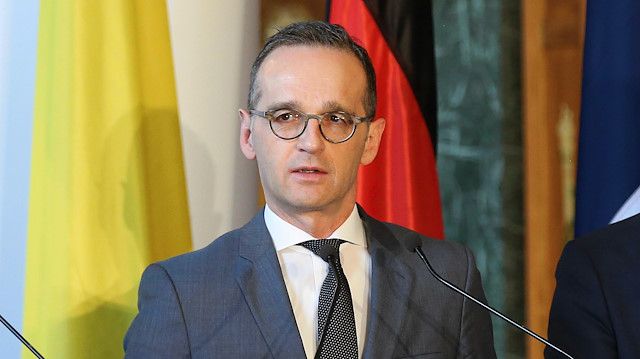 Germany's foreign minister on Tuesday expressed conditional concern over human rights violations in Indian-administered Kashmir and urged Pakistan and India to resolve the dispute through dialogue.
"If there are human rights violations [in Kashmir], if there are atrocities, then there will be a reaction and that reaction, at times, is difficult to contain," Heiko Mass told a joint press conference alongside his Pakistani counterpart Shah Mahmood Qureshi, apparently referring to a terror attack in Kashmir last month that killed at least 40 Indian soldiers and raised tensions between India and Pakistan
"Germany acknowledges Pakistan's efforts toward de-escalating the current tension with India and Premier [Imran] Khan's offer for dialogue with New Delhi," he added, citing Islamabad's quick release of an Indian pilot as a positive step.
Mass, who arrived early Tuesday from Afghanistan along with a high-level delegation, met Qureshi in Islamabad.
During his stay in Pakistan, he will meet the country's top political leadership.
Mass also lauded Pakistan's efforts to arrange peace talks between the U.S. and Afghan Taliban to resolve the 18-year Afghan conflict.
Qureshi said he briefed Maas on the recent tension with India and human rights violations in Kashmir.
"Kashmir is the main issue between Pakistan and India, and dialogue is the only way to go forward," Qureshi said.
Qureshi called terrorism a global challenge and said his country has taken several steps to eliminate this menace from the region
"Pakistan made huge sacrifices during the fight against terrorism, we lost over 70,000 precious lives with over $120 billion damage to our economy," he said.
According to the top diplomat, in delegation-level talks the two sides discussed bilateral relations, the regional situation, and efforts for peace in Afghanistan.
Jammu and Kashmir, a Muslim-majority Himalayan region, is held by India and Pakistan in parts and claimed by both in full. A small sliver of Kashmir is also held by China.
Since they were partitioned in 1947, the two countries have fought three wars -- in 1948, 1965 and 1971 -- two of them over Kashmir.
Also, in Siachen glacier in northern Kashmir, Indian and Pakistani troops have fought intermittently since 1984. A cease-fire came into effect in 2003.
Some Kashmiri groups in Jammu and Kashmir have been fighting against Indian rule for independence, or for unification with neighboring Pakistan.
According to several human rights organizations, thousands of people have reportedly been killed in the conflict in the region since 1989.