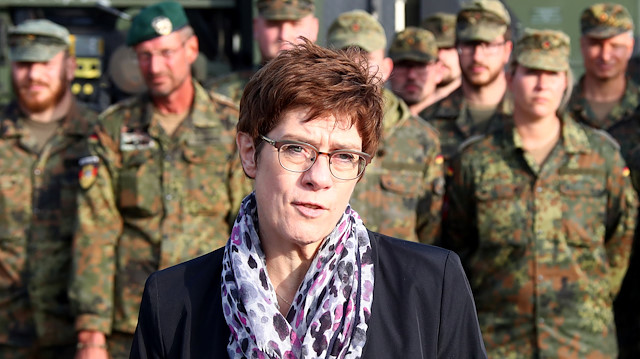 Germany's defense minister on Thursday outlined a new security and defense strategy calling for the country to play a more active military role in the world.
In a speech at the Bundeswehr University in Munich, Annegret Kramp-Karrenbauer argued that Germany should invest more in defense and pursue a more active foreign policy to address current global challenges.
"We have to do more to protect our values, our interests," she stressed.
"A country of our size, with our economic and technological power, a country with our geostrategic position and global interests, cannot just stand on the sidelines and watch the developments, wait for the others to act," she added.
Kramp-Karrenbauer proposed the establishment of a "national security council" in Germany, to facilitate quick and effective responses to domestic and security challenges.
She argued that such a governmental body would better coordinate instruments of diplomacy, military, economy, trade, domestic security and international development cooperation.
Kramp-Karrenbauer, who is also the leader of Chancellor Angela Merkel's Christian Democrats (CDU), is widely expected to succeed Merkel when her term ends in 2021.