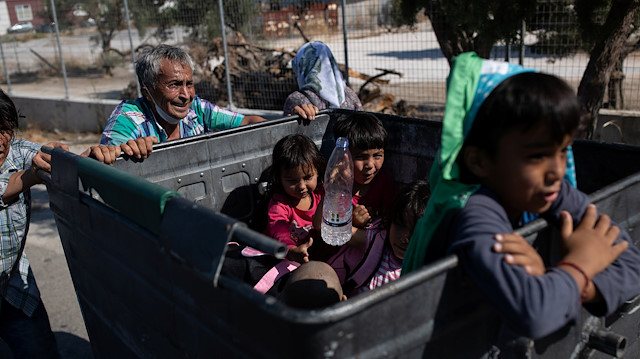 Germany has agreed to take in over a hundred children from a Greek refugee camp which was destroyed in a blaze, the country's interior minister said Friday.
German Interior Minister Horst Seehofer and EU Commission's Vice President Margaritis Schinas held an online news conference to discuss the latest situation in the Moria Camp.
Seehofer said that France and Germany will take in most of the 400 unaccompanied children that were relocated to the city of Thessaloniki.
Germany did not give an exact number as the negotiations are still continuing, Seehofer stated.
Germany aims to bring the children to the country until the end of this year, he said.
Finland, Luxembourg, Slovenia, the Netherlands, Croatia, Portugal, Switzerland and Belgium are among the countries that accepted to take the children in, but not Austria, he added.
Noting that Germany has accepted 1.73 million asylum seekers since 2015, he said that his country was shouldering a huge burden.
Seehofer said that not only Greece but also Malta, Spain and Italy have problems regarding the migration crisis, which, he stated, is an issue that needs to be solved as quickly as possible.
EU Commission Vice President Schinas said that the bloc will propose to the Greek government to build a new and a modern facility, where the asylum process is carried out faster.
The fire in Moria camp has shown that Europe needs to change its migrant policy, Schinas added.
He said that in order to prevent people from putting their lives in the smuggler's hands, the EU should make an agreement with the countries that migrants use as transit.
Officials said the fire had destroyed 80% of the Moria camp – recently home to around 13,000 people, about four times its capacity – leaving thousands of people without shelter, food, and other basic facilities on the island.
While there has been no headway in efforts to ascertain the cause, Greek authorities are probing the possibility the fires were deliberately started by a group of refugees who tested positive for COVID-19 and refused to be placed in isolation.