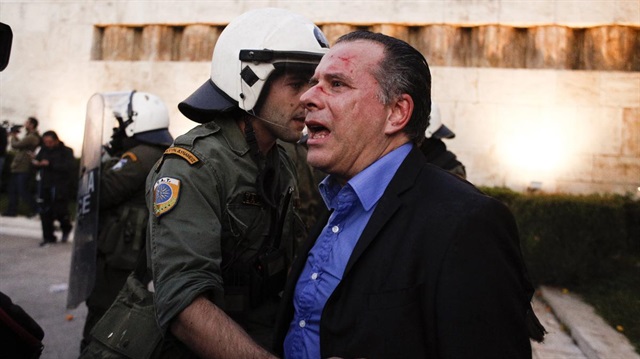 A group of protesters attacked Koumoutsakos initially verbally, then physically, as he passed the tomb of the Unknown Soldier outside the Greek parliament. Koumoutsakos suffered facial bruises, but did not need to be hospitalised.

The attack took place during a demonstration of Pontic Greek groups in response to Education Minister Nikos Filis' statement that the Pontic Greeks were not victims of genocide by the Ottoman Empire in the early 20th century. The Pan-Pontic Federation of Greece (PEO) organized a peaceful protest in Syntagma Square, but the protests turned violent. The police used tear gas to disperse the crowd.

Speaking in parliament after the incident, Koumoutsakos charged neo-Nazi party Golden Dawn for the attack and said:

"Those who did it are those who have committed murder, they are the purveyors of racism, xenophobia and what is most extreme in the political and social life of the country." Koumoutsakos also accused Education Minister Nikos Filis of bearing moral responsibility with his remarks about Pontic Greeks.

While there have not been any detentions or arrests yet, it is reported that four of the protesters who assaulted the MP have been identified by State Security services.

The Pontic Greeks are a part of the Greek Diaspora that spread to the Black Sea region and are said to be descended from colonies of traders who settled there thousands of years ago.