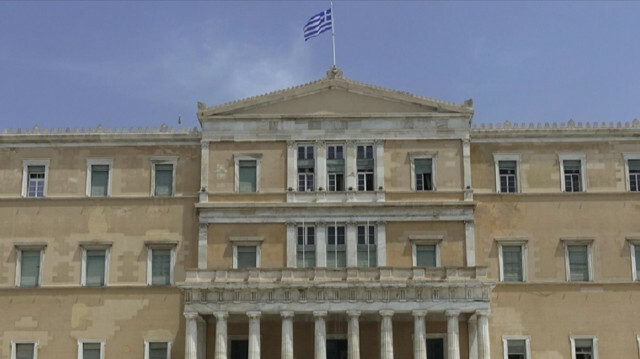 Greek Prime Minister Kyriakos Mitsotakis ordered a lawmaker with the ruling New Democracy (ND) party to be removed from the party's parliamentary group Tuesday after he attacked communists in Greece and labeled them as a threat.
Konstantinos Bogdanos, referring to remarks by Greek nationalist colonel Georgios Grivas, a right-wing figure from World War II, said: "Grivas says we have three enemies: the British, the Turks and the communists. The biggest danger, they said, was the communists."
Mitsotakis, who is in Slovenia, was informed about the incident and ordered his removal.
The remarks sparked outrage from the Communist Party of Greece (KKE), which accused Bogdanos of using rhetoric in his speech similar to that of the far-right Golden Dawn party.
Bogdanos was also denounced by Foreign Minister Nikos Dendias, who lashed out at him, saying: "We are not here to return to the bad past of our country but to discuss the survival of the country in the future."
Bogdanos was also criticized for laying a wreath along with former Golden Dawn lawmaker Ilias Kasidiaris at a ceremony at Vitsi in Greece's Kastoria region at an event commemorating the civil war battle where the National Army routed the communist-tied Democratic Army of Greece.
"Any attempt today to project into the modern political life of the country the painful moments of the past for party-political gain is unacceptable. The association with Kasidiaris is unacceptable, and the laying of a wreath with Golden Dawn is also unacceptable," Dendias said.
Bogdanos made the remarks during a parliamentary debate about the recent defense agreement between Greece and France.
However, this was not the first time the right-wing lawmaker was warned over his remarks.
Last month, Bogdanos, who is known to possess an anti-immigrant ideology, retweeted a list with names of migrant children at an Athens kindergarten, saying they are the majority enrolled, while only two Greek names were on the list.