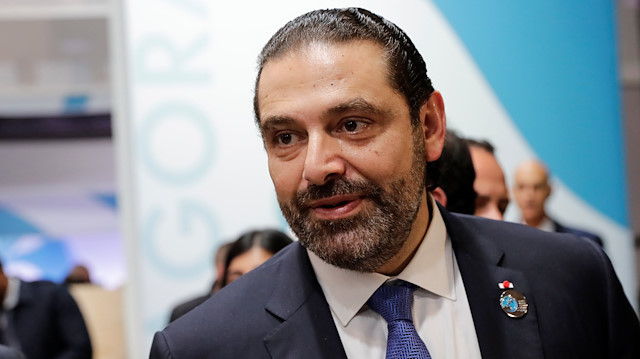 Lebanese Prime Minister-designate Saad Hariri, who was detained by Saudi Crown Prince Mohammed bin Salman, is turning a blind eye to enmity against Turkey.
Ever since Lebanon held parliamentary polls on May 6, Hariri has struggled to form a new government. The process has faced repeated delays amid mutual recriminations between the country's main political forces and demands by certain parties for more representation.
The existing temporary government fosters an enmity against Turkey, head of the Lebanese Turkish Society and elected member of the City Council of Tripoli Dr. Khaled Tadmori said.
"The ministers appointed by Lebanese Prime Minister Saad Hariri try every method to prevent Turkish goods from entering the country. Hariri watches quietly," Prof. Tadmori said.
Lebanon will be delivered to the Saudis
Prof. Tadmori added that Lebanese Foreign Minister Genral Bassil blocked the beneficial work Turkey wanted to carry out in Lebanon.
"TİKA [Turkish aid association] wants to open an office in Tripoli, but it is denied permission. The Yunus Emre Cultural Center wants to open a language center in Tripoli but it is also denied permission," he said.
"By stoking anti-Iran sentiment, they want to deliver Lebanon to Saudi Arabia," Prof. Tadmori added.
Lebanese officials last November said that Riyadh had forced its long-time ally Hariri to quit and put him under house arrest because it had lost patience with his political accommodation with the Iran-backed Lebanese Shi'ite Muslim group Hezbollah.
Following French intervention, Hariri came back to Beirut and withdrew his resignation, drawing a line under the crisis that had raised fears for Lebanon's stability and thrust it to the forefront of Riyadh's regional tussle with Iran.
Hariri became prime minister in 2016 in a political deal that made Hezbollah ally Michel Aoun head of state.
"It is clear that the Lebanese file has changed in Saudi Arabia. They were saying to Saad al-Hariri that because you have a deal with Michel Aoun ... and part of Hezbollah in the government, you must resign," a source close to Hariri said.
"They have reviewed their calculations with regards to their policy towards Lebanon, and their view that Saad al-Hariri must wage a military war against Hezbollah, or will otherwise be persona non grata," the source added.
Explicit animosity
Caretaker Economy and Trade Minister Raed Khoury announced in June that Lebanon banned the imports of biscuits and detergents from Turkey. The ban constituted a drop of $30 million in trade.
While reducing trade volume with Turkey, Lebanon signed a trade deal with Saudi Arabia and France that allows the free entry of their products into the country, Dr. Tadmori said.
History of hate
Speaking in an interview on MTV Lebanon in March 2017, Lebanese Tourism Minister Avadis Kadanian, who is also the deputy chairman of Tashnag, a small Armenian party, said that as an individual he does not like Turkey and would rather not welcome any Turks to Lebanon.
"I would not promote anything related to Turkey, none of their products, or establish relations with them. I cannot prevent Turks from coming to Lebanon and I do not want to welcome them at an airport," Kadanian said.