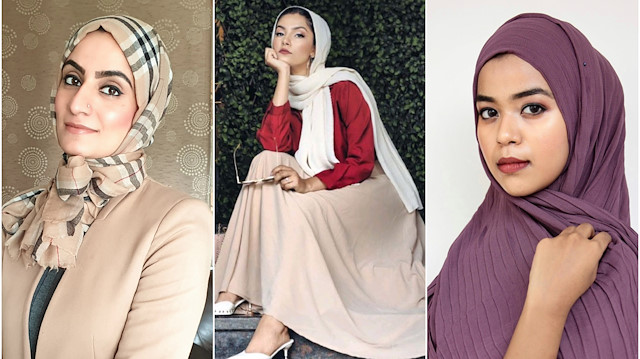 Fashion transforms through the ages, and modest clothing, the go-to for religious Muslim women, is by no means exempt from the changes brought on by time.
An article penned by Priti Salian of the UAE-based The National takes a look at how modest fashion has transformed in the country which boasts the world's third largest Muslim population, India.
37-year-old Nighat Ahmad drew great criticism when she first built her brand, "The Hijab Lee," which produces mainly maxi dresses, pantsuits and abayas decorated with traditional hand embroidery in India in 2014.
"I was constantly asked how I could mix hijab and fashion. Some people said, if you are a hijabi, wear a burqa with it, or give up your hijab," she said.
However as the years went by, haters became lovers and are now inspired by her style and wear her designs.
The Hijab Lee surged in popularity over time, especially in the United Arab emirates (UAE), and was renamed as House of THL this year after Ahmad's three daughters, Tuba, Hiba and Liba.
"The common misconception that hijabi women have to sit at home and working women do not wear a hijab is changing," she added.
Shanaz Rukshana, 26, who launched her brand "The Hijab Company" in Chennai in 2017, says she wanted to shatter the prejudices surrounding Muslim women and also to educate them about what women really can and cannot wear in Islam.
"I wanted to know what it is to be a Muslim and did not want to be blind about my faith. I realized that in India there are misconceptions among Muslim women about dressing, one of them being that black, gray and cream should be the preferred colors for outfits. On the contrary, I found that there is no restriction on color and style in Islam, and there is so much to experiment and play around with," she said.
Nabeeha Fakih, also known as "The Urban Hijabee," became a social media phenomenon and shot to fame as a modest Indian fashion influencer.
Fakih, who boasts 23,000 followers on YouTube and 60,000 on Instagram, says social media has "a big influence" on the spreading modest fashion sense in India.
"Women feel empowered when they can be beautiful in their own skin without having to show it," said Fakih, pointing out that Indian women's self self-confidence grows thanks to Hijab fashion harmonized with various colors and styles.
22-year-old Unaisa Subair, the owner of Zak Attire and a hijabi YouTuber from Kochi, draws attention to cultural diversity and has coined her own theories on fashion.
Subair, who has a round face herself, realized that women from northern India mostly prefer her hijab and make-up tutorials rather than women from the south who have V-shaped faces.
She also stated that social media is a double-edged sword and points out that there are those who are not too happy with her tutorials.
"I have even been threatened not to record these videos, because some people think that Muslim women are not permitted to show their faces to the public. I used to get upset earlier, but now I just block such people," she said.