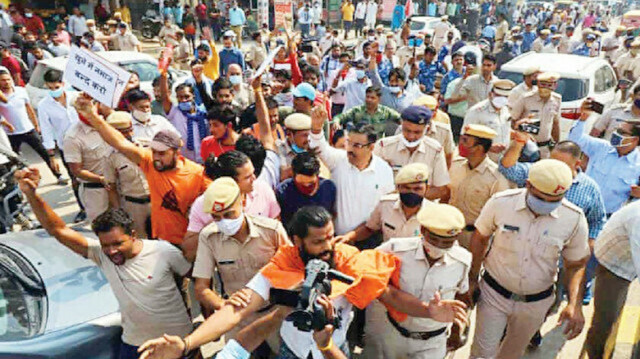 Far-right Hindu groups have been seeking for the past two months to outlaw Muslim Friday prayers in the city of Gurugram, near the Indian capital of New Delhi, as the administration of Prime Minister Narendra Modi's Bharatiya Janata Party (BJP) stepped up its persecution of the country's Muslim minority.
Hindu gangs regularly attack Muslims with axes and sticks as they pray in open areas in the northern city of Haryana state, which is governed by Prime Minister Narendra Modi's far-right BJP.
Nationalist parties grouped under the umbrella of the Joint Hindu Struggle Committee announced that they will not allow prayers in open spaces starting next Friday. Muslims, on the other hand, argue that they simply have no other choice but to hold open-air prayers due to the insufficient number of mosques in the city.
In a region with only 13 mosques, 108 open areas were designated for Muslim worship in Gurugram with the approval of the authorities, however, this number was later reduced to 20 to appease far-right demonstrators.
Violence against Muslims and other minority communities has skyrocketed in India since the ruling BJP led by Prime Minister Narendra Modi came to power in 2014.
According to a February 2021 report by Human Rights Watch, "prejudices embedded in the government of the Hindu nationalist BJP have infiltrated independent institutions … empowering nationalist groups to threaten, harass, and attack religious minorities with impunity."