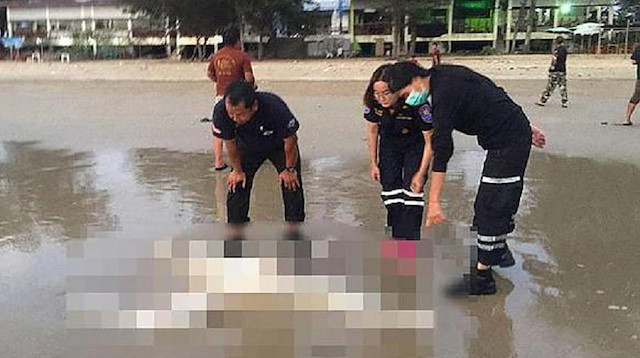 Two headless male bodies and a detached female head have been found on popular tourist beaches in southern Thailand.
One of the naked male bodies was found at Mae Ramphueng Beach in Rayong. On his wrist authorities found three English language tattoos, but the skin had been peeled back due to significant decay from the water – making it difficult to identify him. Authorities believe the man died at least one week prior to his body being found on the beach.
The second headless male body was found 10 kilometers away from the first Beach wearing only underwear. Police believe he died at least ten days before his body was discovered.
Furthermore, a detached head with long hair believed to belong to a woman was found in nearby waters at Prapadaeng, around 20 kilometers south of Bangkok, by fisherman, according to South Samrong Police Chief Col. Prasert Buakhao.
Authorities believe the head had been sitting in the water for a few days and it has been taken to the police hospital for an autopsy. They are also looking at missing persons' lists for clues.
Efforts are ongoing to identify all three bodies as police reportedly suspect that their deaths could be linked.