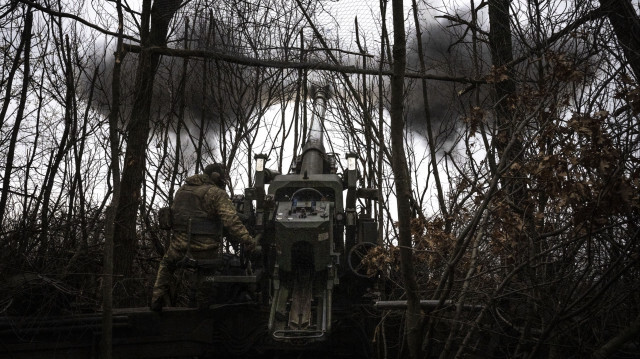 Howitzer artillery systems are the main form of weaponry used on the front lines between Russia and Ukraine in the Zaporizhzhia region, with the war now in its second year.
Due to the war, Ukrainian artillery units in Zaporizhzhia have been at the front for more than a year, as on the Donetsk, Kharkiv, Kherson and Luhansk fronts, providing support for Ukrainian military advances 24 hours a day.
The Ukrainian army heavily uses weapons supplied from partner states in the West and targets armored vehicles and ammunition depots belonging to the Russian army.
They include the 155mm FH70, a towed howitzer jointly developed by Germany, France and the UK, which is regularly used at the front.
"The FH70 howitzer is an effective weapon. It is possible to shoot precisely at the target. It has a wide choice of shells. Its shells can reach a target of 30 kilometers (18.6 miles)," a Ukrainian commander codenamed Ares told Anadolu.
Ares, who commands the FH70 artillery battery of the 44th Brigade of the Ukrainian army, said the number of shells they use change according to their target, adding they do not always get the same instructions.
"Targets change. I would like to say as an example, if the target is a tank, one shot is fired. If the target is elsewhere, three shots are fired. Shells are selected accordingly," Ares said.
He also said they fire on Russian positions from a distance of 12 kilometers (7.4 miles) and are on duty 24 hours a day, adding that while close combat is dominant on the Donetsk front, where the most intense clashes between Russian and Ukrainian forces are taking place, howitzers are the main form of weaponry used on the Zaporizhzhia front.
"The dynamics of the war in the Donetsk region are different. On the Zaporizhzhia front, artillery systems are used more intensively. Both the enemy and we use artillery actively," he said.
2 ay önce