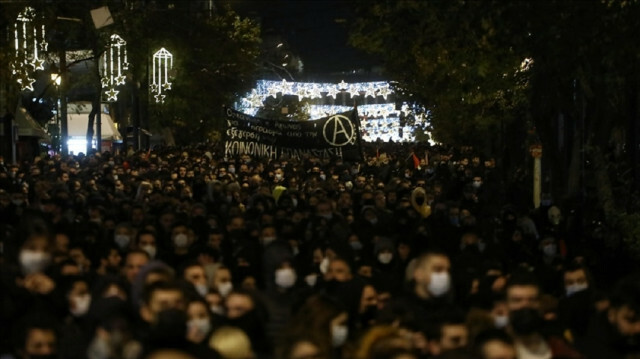 Clashes broke out between protesters and Greek police in central Athens on Monday afternoon after a rally took place to commemorate the 13th anniversary of teenager Alexis Grigoropoulos' murder by the police in 2008.
Protesters threw stones, firebombs and other objects at police, who had barricaded the streets in the Exarchia neighborhood of Athens.
Dustbins were set on fire, while police responded with tear gas and stun grenades.
No detentions or arrests were reported.
Around 500 people gathered in an annual commemoration at the intersection of the streets where Grigoropoulos, then 15, was shot and killed.
Most major streets in central Athens were closed Monday afternoon and in the evening, while around 4,000 police officers had surrounded the area since the early hours.
Earlier in the day, two rallies by student groups and anarchists were held and concluded peacefully.
Grigoropoulos was shot dead by police officer Epaminondas Korkoneas on Dec. 6, 2008 after officers approached a group of teens and allegedly provoked them. A verbal exchange ensued which led to the boy's murder.
Grigoropoulos' death triggered the worst riots seen in Athens since the fall of the Greek dictatorship in 1974.
2 years ago