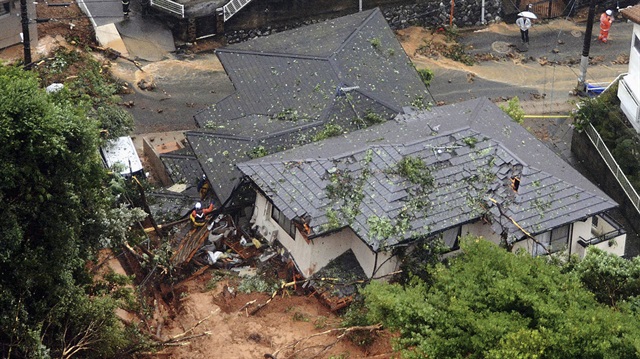 Rescue workers are seen next to houses damaged by a landslide following heavy rain in Kitakyushu, southwestern Japan.
Hundreds of thousands of people across a wide swathe of western and central Japan were evacuated from their homes on Friday as torrential rain flooded rivers and set off landslides, killing at least four people.
The Japan Meteorological Agency (JMA) issued its strongest possible warning about the "historic" rainfall and said more was set to batter already saturated areas through Sunday, raising the danger of more landslides and major damage.
One part of the main island of Honshu had been hit with twice the total amount of rain for a normal July by Friday morning, and the rain was relentless through the day.
At least four people were killed, one when he was sucked into a drainage pipe and another, an elderly woman, died after being blown over by powerful wind.
Several people were missing, including a man whose car was swept away as he delivered milk and a boy who was swept into a ditch, NHK national television said.
"The situation is extremely dangerous," wrote a Twitter user in Kochi, a city on the smallest main island of Shikoku, where the rain was especially intense.
Several dozen people were injured, four seriously, the Fire and Disaster Management Agency said. Several people were buried in a landslide and rescuers rushed to dig them out.
About 210,000 people were ordered from their homes due to the danger of further landslides and flooding, nearly half of them in a wide area surrounding Japan's ancient capital of Kyoto, and nearly 2 million more were advised to leave, as of Friday afternoon, the Agency added.
Trains across western and central Japan were halted, including several sections of the Shinkansen bullet train.
The danger was particularly high in a part of the southwesternmost main island of Kyushu, where dozens of people were killed by torrential rain and floods a year ago.
The rain appeared to have been touched off by warm, humid air flowing up from the Pacific Ocean and intensifying the activity of a seasonal rain front.
Remnants of a now-dissipated typhoon that brushed Japan this week also contributed, officials said.
Japan's weather woes are far from over. Typhoon Maria, forming deep in the Pacific, is set to strengthen, possibly into an intense Category 4 storm, and may directly target the southwestern islands of Okinawa early next week.
5 yıl önce