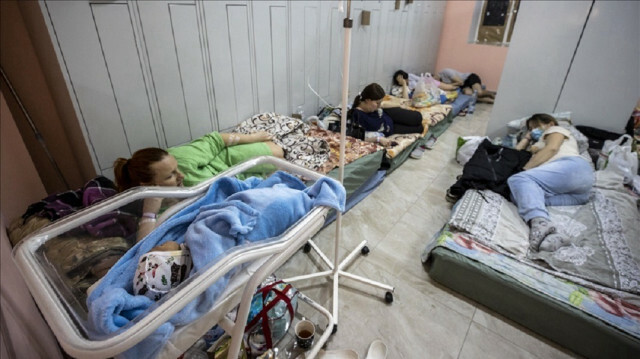 As the war between Russia and Ukraine entered its seventh day on Wednesday, a pregnant Ukrainian woman taking shelter at the basement of a Kyiv hospital said if people knew how difficult it is to give a birth, there would never be a war.
"We are in a very difficult situation between life and death. We want the war to end soon," Anna, 35, who has been in the basement for six days, told Anadolu Agency.
The basement of the maternity hospital No. 5, which is being used as a shelter, has been equipped with all necessary equipment needed to help women.
"We feel much safer here since we have been taken care of and there is a food supply here as well," she said.
Olesa, 32, a Ukrainian woman who is nine-month pregnant, told Anadolu Agency that she came to Ukraine from Istanbul to give birth, and due to the war, they had to take shelter in the hospital basement.
Noting that she had been in the hospital for the past three weeks, she said: "Now we need more support."
Yulia, 35, who is at the hospital since Feb. 28, when she gave a birth to her son, said she was "very stressed" as all bridges in the city were closed except for the only one.
Due to the war, many streets and bridges in Kyiv have been either closed with barricades or have special military check posts.
"The doctors and staff here are the best," Yulia said.
Aleksii, 39, father of a new born baby girl, expressed hope that his daughter would grow up in a peaceful atmosphere.
"The doctors here deserve all honor and respect. I am very grateful for their help and support," he said.
Dmytro Govseev, head of the hospital, said: "We have been staying here since the first hour of the war on Feb. 24."
He said a total of 28 women patients are currently in the hospital and are expected to give birth soon.
"We will be working here regardless of the situation," he said, noting that doctors and other staff work in shifts and their families have also been relocated to the hospital shelter.
Govseev stressed that before the war, the average daily births in the hospital was 15 to 16, but now the number has dropped to six.
"Since the beginning of the war, the hospital has seen 20 births," Govseev said, who emphasized that the drop in number was probably due to the fact that many women have left Kyiv or Ukraine.
- Family members of doctors
Sonya, 12, who stays at the maternity hospital along with her six-year-old brother, Nazar, said that they spend most of their time in the shelter and leave the basement just to eat, take shower, or play when there are no sounds of warning sirens.
"Then, we usually go back (to the shelter). They provide us with food here. We also sleep here," she said, adding that they hear warning sirens "very often."
Noting that her mother is a senior midwife at the hospital, Sonya said they have been staying in the shelter for five days.
She said that the family members of the hospital staff, and the relatives of all the pregnant women stay in the shelter.
Sonya went on to say that she witnessed how babies were born in the shelter while she was staying there.
Russia's war on Ukraine, which began on Feb. 24, has met international outrage with the EU, US and UK, among others, implementing tough financial sanctions on Moscow.
At least 142 civilians, including 13 children, have been killed and 408 others, including 26 children, injured in Ukraine, according to UN figures.
More than 874,000 people have fled Ukraine to neighboring countries, the UN Refugee Agency said on Wednesday.
2 yıl önce