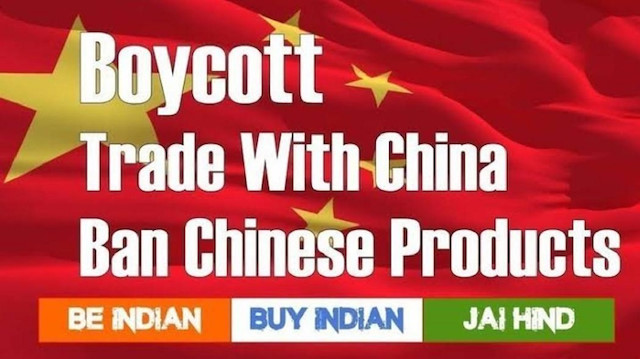 Hundreds of outraged Indian social media users have launched an online campaign calling for a boycott of Chinese products after Beijing blocked a U.N. Security Council committee from blacklisting the head of militant group Jaish-e-Mohammed (JeM) on Wednesday.
The hashtags #BoycottChina and #BoycottChineseProducts shot up to the top of trending topics on Twitter in India.One user suggested buying Taiwanese, Korean and domestic Indian products even though they're costlier than similar Chinese-made ones
Have postponed buying mobile handset…The budget was around 12-14K. Plan was to go for Oppo, Xiaomi types…but now there's a change of plan. Am more than willing to pay few extra bucks for Made In Taiwan, Korea or Make in India product. Pls. suggest one. #BoycottChineseProducts

— Rajiv K Mishra (@rajivjournalist) 14 Mart 2019
Another user posted a photo of the Indian cricket team wearing military caps with the caption: "We demand BCCI to delete Chinese company Oppo Mobile India logo from Indian team Jersey and boycott match with Pakistan in World cup".
We demand @BCCI to delete Chinese company @oppomobileindia logo from Indian team Jersey and boycott match with Pakistan in worldcup

Need people to Rt this and support our campaign against Chinese products #boycottchineseproducts #BoycottChina #CKMKB #ChinaSupportsTerrorists pic.twitter.com/rsozjz3tvy

— defence360_Official (@Defence_360) 14 Mart 2019
China on Wednesday blocked a bid to list the leader of the militant group Jaish-e-Mohammed (JeM), which said it attacked an Indian paramilitary convoy in disputed Kashmir.
It is the fourth time China has blocked attempts to have Masood Azhar listed as a terrorist.
India said it was disappointed at the block, while the United States said it was counter to a goal it shared with China of achieving regional peace and stability.
Tensions mounted further following border skirmishes between the two countries' air forces in which both sides claimed to have downed each other's aircraft.
The two countries have fought three wars -- in 1948, 1965 and 1971 -- since they were partitioned in 1947.