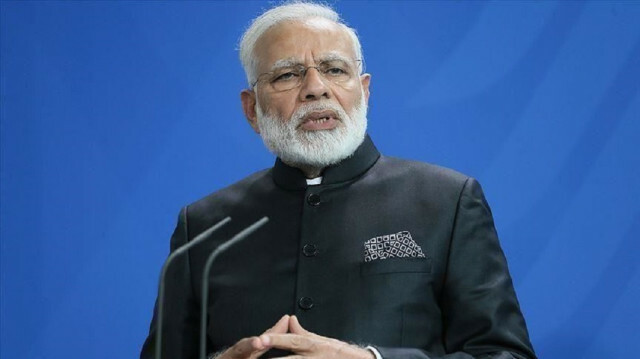 Indian Prime Minister Narendra Modi, who is presently in the US, held separate meetings with Australian, Japanese and US leaders, India's External Affairs Ministry said Friday.
Modi is on a four-day visit at the invitation of President Joe Biden.
The ministry said the meetings with Japanese Prime Minister Yoshihide Suga and Australian Prime Minister Scott Morrison took place Thursday on the sidelines of the Quad Leaders Summit.
In his first in-person meeting Thursday with US Vice President Kamala Harris, the ministry said the two sides "exchanged views on recent global developments, including in Afghanistan, and reaffirmed their commitment towards a "free, open and inclusive Indo-Pacific region."
According to a statement, the two leaders discussed the "COVID-19 situation in their respective countries, including ongoing efforts to contain the pandemic through expedited vaccination efforts, and ensuring the supply of critical medicines, therapeutics and health care equipment."
"Both leaders acknowledged the vibrant people-to-people linkages as the bedrock of the mutually beneficial education linkages and the flow of knowledge, innovation and talent between our two countries."
Regarding the meeting with Suga, a separate statement issued by the ministry said the two prime ministers reviewed the "multi-faceted relationship" between their countries and exchanged views on recent global and regional developments, including in Afghanistan.
They also agreed to enhance bilateral security and defense cooperation, including in the area of defense equipment and technologies, the statement said, adding the two leaders welcomed the "increasing economic engagement between the two countries."
The ministry also elaborated on the meeting Modi held with his Australian counterpart.
"During the meeting, the prime ministers discussed a broad range of issues of bilateral, regional and global importance," it said. "They noted with satisfaction the regular high-level engagements between the two countries, including the recently held first India-Australia Foreign and Defense Ministers' 2 2 Dialogue."
Stating that the prime ministers also "resolved to continue close cooperation for mutual well-being and towards advancing their shared objective of an open, free, prosperous and rules-based Indo-Pacific region," the ministry said they "underlined the need for the international community to address the issue of climate change on an urgent basis."