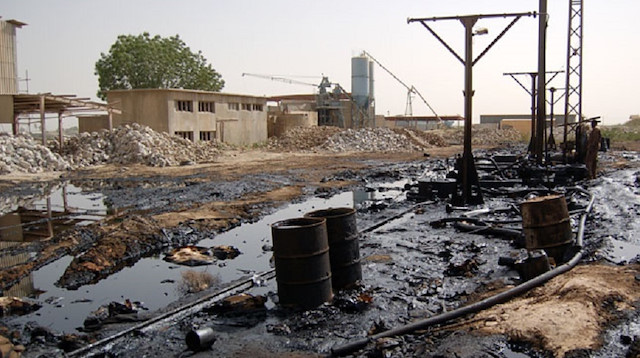 South Sudanese citizens in oil producing areas are worried about the pollution causing infant deformities, miscarriage, and death during delivery as well as death of their livestock.
Abraham Ngor, the Information Minister in Ruweng state --one of the affected areas by oil pollution in South Sudan-- said that oil boosts the country's economy, but it has a bad impact on the citizens living around oil fields.
"Now in Ruweng state there are many cases of deformities, miscarriage, death during delivery on daily basis, having a serious negative impact on people, especially on reproduction rates," Ngor told Anadolu Agency in an exclusive interview.
He said that that the drinking water is also sometimes polluted by oil, and there are two cases of birth defects since the beginning of August alone adding that they were born with no limbs, toes, hands and vision due to the effects of oil pollution.
Those children born deformed are now under treatment by oil companies and the government, Ngor said.
He said that since 2017 they have recorded 267 miscarriage cases, whereas the number of babies born deformed or with disabilities is 10 and the number of death during labor is 12.
These figures do not include those who live in remote areas with no hospitals and roads to connect them with state headquarters, he added.
Susana, one of the mothers who live in one of the oil producing areas in former Unity state, told Anadolu Agency over the phone that there are high rates of abortion due to miscarriage as well as deformation, abnormality diseases and blindness in newborns.
She called upon the government to bring up the policy that will protect them against such cases.
Communities in those areas have never received any of the benefits, although it was indicated that oil producing areas will be provided 2% of oil revenues, she added.
Another mother Sunday, 27, said that she has had miscarriage twice and the doctor told her that the cause might be environmental pollution as they live near oil fields.
The Petroleum Revenue Management Act of 2013, approved by the state legislative assembly, stipulates that the oil-producing states will receive 2% from the net petroleum revenue to be allocated for state development programs.
Mary Ayen Majok, a member of parliament representing the area, said that such cases are prevalent but the local people do not report them to the authorities.
When such babies are born, the community members just bury them because they are very frightened, she said.
"A child was brought here to Juba and I saw it myself, it was a baby boy. He had a right foot but with a very short leg and the stomach was swollen showing that he was not a normal newborn," said Majok.
A group of South Sudan lawyers said that if oil companies don't take the responsibility to protect the environment and the community, and ensure that the standard environmental practice is safeguarded, then they will drag them to court.
Philip Anyang, secretary-general for Center for Human Rights Lawyers, said that oil drilling in those areas is a big concern when the interest of the community is considered.
South Sudan's Petroleum Minister Awou Daniel Chuang said that they are going to address this issue of environmental damage caused by oil pollution.
He admitted that there is environmental pollution in areas of oil industry.
"We are now gearing up our efforts to make sure we conduct environmental audit to quantify the damages on environment. It's very important to do the analysis, which will exactly tell the extent of the damage within the oil fields so that we recommend the necessary measures and control," he said.
The oil operation needs to be guided based on the results of the environmental audit following this study, he added.
He also said that they have taken one child to Nairobi for medical examination.
According to the Petroleum Act of 2012, oil production activities should be done in a way that ensures a high level of health and safety.
According to Petroleum Ministry, South Sudan produces 175,000 barrels of oil per day.
At the current oil prices, the government gets $5.5 million per day or more than $165 million per month.
4 yıl önce