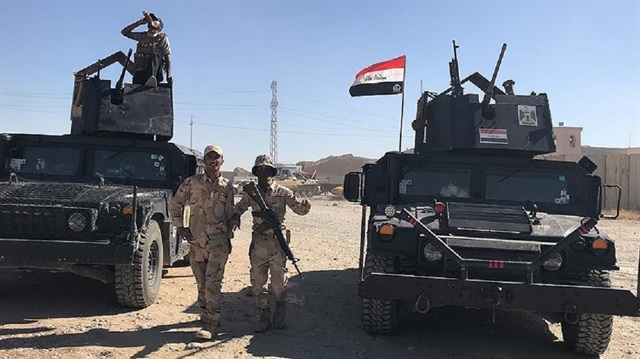 Iraqi forces on Wednesday restored the Rabia border crossing with Syria following the withdrawal of PKK/PYD terrorists from the area, according to an Iraqi military source.
"Troops from the army's 15th division have secured the Rabia crossing, located northwest of Mosul," Iraqi Army Col. Hassan Reda told Anadolu Agency.
The strategic crossing links the city of Rabia in Iraq's northwestern Nineveh province to the city of Al-Yarubiyah in next-door Syria.
"Iraqi forces assumed control of the crossing after calling on the PKK/PYD to withdraw into Syria," Reda said.
The crossing has been closed to traffic since mid-2014, when Kurdish Peshmerga forces loyal to northern Iraq's Kurdish Regional Government (KRG) captured the area from the Daesh terrorist group.
Last week, government forces moved into several parts of Iraq disputed between Baghdad and the Erbil-based KRG, including the oil-rich Kirkuk province.
Tension has steadily mounted between Baghdad and Erbil since Sept. 25, when Iraqis in KRG-held areas -- and in several disputed regions -- voted on whether or not to declare independence from the Iraqi state.
According to results announced by the KRG, almost 93 percent of registered voters cast ballots in favor of independence.
The illegitimate referendum was heavily criticized by most regional and international actors, with many warning that it would distract from Iraq's ongoing fight against terrorism and destabilize the region.
Last week, government forces moved into several disputed parts of Iraq, including the oil-rich Kirkuk province, which is claimed by both Baghdad and Erbil.
On Wednesday, the KRG -- fearing more military escalations by Baghdad -- offered to "suspend" the results of last month's unconstitutional poll, halt all military activity, and enter into talks with the central government.