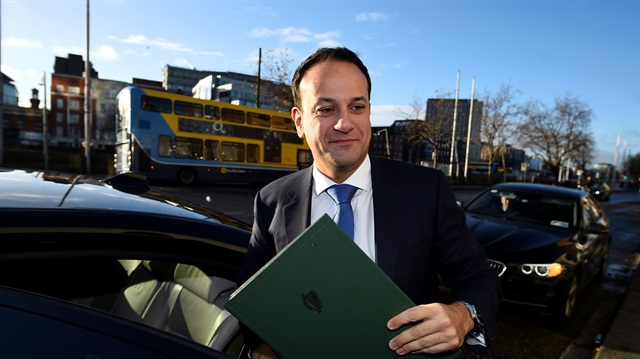 Ireland's government could fall by the end of Tuesday amid an acrimonious row over a former justice minister that threatens to destabilize crunch EU Brexit talks scheduled for next month.
In a national dispute that has reached the ears of the EU's top leaders, lawmakers from Ireland's biggest opposition party, Fianna Fail, are set to table a no-confidence motion in parliament over Tanaiste (Deputy Prime Minister) Frances Fitzgerald at 8 p.m. Dublin time (2000GMT).
Fitzgerald has been accused of knowing about plans by lawyers for the police, known as the Gardai, to discredit a Garda whistleblower who exposed wrongdoing in the force.
Revelations about her handling of the affair have undermined Fianna Fail support for the minority government of Taoiseach (Prime Minister) Leo Varadkar.
Ministers from Varadkar's Fine Gael party are meeting this morning in Dublin. Local media has reported that Fitzgerald has faced calls from a number of senior Fine Gael figures to step down so as to avoid a pre-Christmas general election.
Despite a series of one-on-one meetings between Varadkar and Fianna Fail leader Micheal Martin in recent days, if Fitzgerald does not go, Varadkar will have to meet Ireland's president to ask that the current parliament be wound up.
An election campaign and possible change of government could seriously complicate preparations for a major EU Brexit summit scheduled for Dec. 14-15.
The meeting is to decide if talks with the U.K. can proceed to substantive issues such as trade. The remaining EU states must unanimously agree that sufficient progress has already been made on preliminary issues -- including arrangements at the Irish-U.K. border.
However, London and Dublin have moved apart on the issue of what will happen to the frontier between Northern Ireland and the Republic of Ireland.
Dublin is adamantly opposed to a 'hard' border such as the one seen during decades of violence known as the Troubles, in which around 3,600 people died, when the Irish landscape was marked by troops, police and extensive military installations.
The Irish government says it remains unconvinced by British promises to maintain an open border after Brexit and fear it could leader to political and economic instability on the island again.
These fears mean it is possible Dublin could use its power of veto in December's EU summit to bring Brexit talks to a halt.