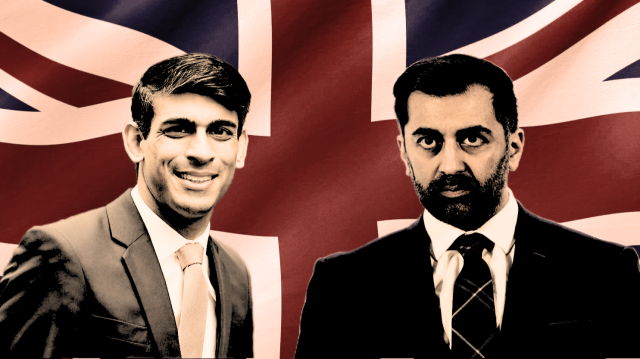 Irony of historical proportions: Indyref2 to be decided by descendants of former UK colonies
As the United Kingdom continues to grapple with issues of immigration and diversity, the children of immigrants from former colonies are increasingly making their mark in UK politics.
Recent high-profile examples include the Muslim Mayor of London and Indian-origin Prime Minister, as well as the appointment of a Pakistani-origin politician as the First Minister of Scotland.
These statesmen not only bring unique perspectives and experiences to the political landscape, but also challenge traditional notions of who can hold positions of power in the UK.
The irony was not lost on anyone that both the Indian-origin Prime Minister Rishi Sunak and Scotland's newly-elected Pakistani-origin First Minister Humza Yousaf hail from countries that won their independence from the United Kingdom in 1947.
Increasing role of minorities in the UK
Humza Yousaf, 37, became both the country's youngest prime minister and the first Muslim leader of a Western European democracy. Yousaf will be sworn in today by King Charles of England.
Meanwhile, his biggest political rival in the Scottish parliament, Anas Sarwar, the leader of the Labor Party, is also of Pakistani origin.
The rise of ethnic and religious diversity in UK politics is further exemplified by the current administration led by Mayor of London Sadiq Khan, who governs the capital and most populous city of London.
Notably, the trend of immigrant participation from former colonies in U.K. administration is on the rise. This is evidenced by the appointment of individuals from diverse backgrounds to key positions such as Foreign Minister James Cleverly and Interior Minister Suella Braverman, who are both people of color.
With a population of 68 million, the United Kingdom is home to approximately 1.8 million citizens of Indian-origin and 1.6 million of Pakistani-origin respectively, demonstrating the country's growing cultural and demographic mosaic.
In his victory speech yesterday, Yousaf said that his grandparents, who immigrated to the country in the 1960s and barely knew a word of English, could not have imagined "in their wildest dreams that their grandson would one day be on the cusp of being the next First Minister of Scotland," adding that his appointment sends a clear message "that your color of skin or indeed your faith is not a barrier to leading the country that we all call home."
However, as we take stock of the current state of ethnic and religious minorities in the U.K., it is important to consider the contradictory approach the government has taken towards illegal immigration. While strides have been made in support of marginalized groups, recent actions indicate a harsher stance against immigrants, as exemplified by both Boris Johnson's administration and the recent measures proposed by Sunak to combat the arrival of individuals by boat from France. This apparent inconsistency begs the question: what values does the U.K. truly prioritize in its treatment of minority groups?
Irony of historical proprotions
Let's put aside for a second the fact that a Muslim Scot and a British Hindu have become a symbol of transition from imperialism to democracy. There's another level of sweet irony to this latest development.
It is a peculiar twist of fate that the future of the United Kingdom may rest in the hands of the descendants of its two former colonies, which were once arbitrarily divided by the British into India and Pakistan, and whose peoples to this day continue to suffer from the scars of colonialism 75 years later.
Flash forward to today, Sunak rejected new Scottish First Minister Humza Yousaf's call for a new independence referendum, dubbed Indyref2, on Monday, according to reports. History is strange, politics is stranger!
As noted by former Indian Minister of State Shashi Tharoor on Twitter, "there's the delicious irony of a person of Pakistani origin demanding the Partition of the UK while being resisted by a PM of Indian origin defending an Akhand Britain."
2 ay önce