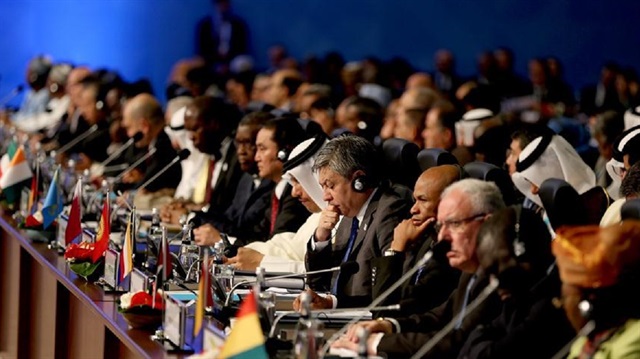 The foreign ministers of the Organization of Islamic Cooperation (OIC) expressed their determination to defeat terrorism and extremism at the 13th OIC Summit taking place in Istanbul, Turkey this week.

Turkish Foreign Minister Mevlüt Cavusoğlu said that terror is one of the most prominent issues on which Muslim countries should increase their unity and solidarity.

"The Islamic world should take a stand against terror. It is a duty for all Muslims," Çavuşoğlu said during his opening speech at the OIC Foreign Ministers' meeting in Istanbul.

"This disease tries to set Muslims against one another. Unfortunately, some terror organizations use our religion's name. So their damage to Muslims increases. Islam means peace. We will not let some murder circles to abuse our religion," Cavusoğlu added.

Terrorism causes hatred among Muslims and leads to Islamophobia against Muslims in the world, Iyad bin Amin Madani, secretary-general of the OIC, said.

"Extremism fractures social cohesion. It holds back important matters such as justice, development, and welfare," said Madani

"We will continue to fight against force of darkness and extremism that misrepresent the real teaching of Islam, which is based on tolerance," Egyptian Foreign Minister Sameh Shoukry said.

"The Islamic world is in need of moderation and an integrated strategy for an effective struggle against terrorism and extremism," said Shoukry, emphasizing the importance of dialogue.

Turkish, Saudi faith leaders vow to fight Islamophobia

A visiting Saudi religious official and Turkey's top cleric on Tuesday said that by working together, the two countries can solve the problem of Islamophobia.

They made the remarks in the capital Ankara, where Saudi Minister of Islamic Affairs, Endowments, Call, and Guidance Saleh bin Abdul-Aziz Al ash-Sheikh was visiting Mehmet Görmez, the head of Turkey's Religious Affairs Directorate.

"I think that our two countries will serve peace for the whole world and humanity, especially in the process the Islamic world is going through, and this visit may cause important developments," Görmez said. "Together we should fight against Islamophobia, which encircles Muslims in other societies."

Al ash-Sheikh expressed his condolences about the recent spate of terrorist attacks in Ankara and Istanbul.

A suicide bombing in Istanbul's Istiklal Street on March 19 claimed four lives and injured 39 others. The attack came only a week after one in central Ankara on March 13, which left 36 people dead and dozens of others wounded.

Additionally, he said that they support the two countries' unity and solidarity and the efforts for peace in the Islamic world.

"The Islamic community wants us to protect Islam from terror and terrorist organizations. I hope we will solve the problem of Islamophobia together", said the Saudi official.