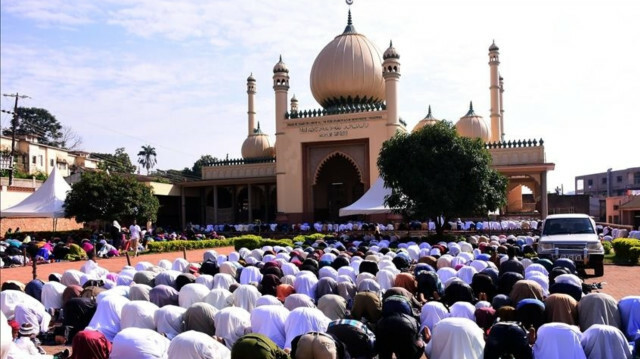 Safina Namukose, a 30-year-old mother of three, was happy to have won a legal struggle against her husband, who had stopped paying maintenance and abandoned the family after marrying a woman from a neighboring village.
She initially fought for months but said she did not get justice, blaming her husband for bribing cops in response to her complaint with a local police station.
"My husband married another woman in the next village. He refused to support me and the children and even stopped coming to home," Namukose told Anadolu Agency.
She filed a report against her husband with the local police station, and he was summoned. "He reportedly bribed the police, and her case was closed without further action," she alleged.
"After being disappointed by the police, I went to the district Sharia Court, where he was dealt with, and he came to his senses. He now returned home and started to take care of the family," she said.
Now it is all done, and family life has back to normal, she said, referring to the local Sharia Court's August 20 ruling in her favor.
Sharia is a religious law that has its origins in the Islamic tradition. It is based on Islamic religious precepts, primarily the Quran and hadith. In Arabic, sharia refers to Allahs' unchangeable divine law, prepared with the help of Fiqah, which refers to human intellectual interpretations of it.
The East African country of over 46 million population, with a Muslim minority totaling more than 13%, adopted its Constitution in 1995. Although it cited Muslim Sharia Laws, it required time to properly operationalize due to a lack of guiding rules. In 2019, the government officially established Sharia Courts in all districts across the country, which is gradually gaining popularity among the Muslim population.
In the previous three months, 140 cases have been settled in Sharia Court in Bugiri alone, one of the districts in the country with the highest number of Muslims.
In a phone interview with Anadolu Agency, Uganda Muslim Supreme Council spokesman Ashraf Muvawala asserted that Sharia Courts have become increasingly popular across the country.
"Sharia Courts are very busy nowadays," he remarked, adding. Every day, a lot of people come to file cases."
Muslims were initially hesitant to file a petition with Sharia Courts due to legal issues, he said. "They trust it now because it has a better justice system than other courts," he added.
"There is too much corruption in the police and magistrates' courts, which has caused Muslims to lose faith in them," Muvawala claimed, citing the reasons why more Muslims are turning to the Sharia Courts.
He stated that some civil matters involving Muslims are now referred to Sharia Courts by Civil Courts. He stated that each district has a sharia secretary, and there is a Directorate of Sharia at the national level, which is led by a director.
- Sharia Laws deal with civil cases
"The country's constitution includes Sharia Laws. It, however, exclusively deals with civil cases and not criminal ones," Shiekh Habib Lugaya, the prayer leader or Imam of Kitodha mosque in Mayuge's eastern district, described the situation.
Many Muslims did not report cases to Sharia Courts with concerns over the legality and enforceability of the remedies obtained from the Sharia Courts. Article 129 (1) (d) of the Constitution provides for the establishment of Qadhis Courts for matters of marriage, divorce, inheritance and custody for persons professing the Mohammedan faith, according to the Muslim Centre for Justice and Law (MCJL), local non-profit organization dealing with the Muslims family matters.
"Though there is no specific law operationalizing Qadhis Courts, Section 2 of the Marriage and Divorce of Mohammedans Act provides that Muslims may handle their marriage and divorce matters in accordance with their customs (Sharia)," it added.
In a recently published article, Hajji Abdul Nsereko Mutumba, a former spokesman for the Uganda Muslim Supreme Council, wrote, "In Sharia courts can be utilized as an avenue in which Muslims can resolve their disputes promptly. They are fast, cheap, and can ably address the justice needs of vulnerable persons.
Ugandan Muslims have advocated Sharia Law to deal with these important issues because secular laws cannot address them to the satisfaction of our conscience. Therefore, Sharia Law is inevitable in any community where Muslims are a part."