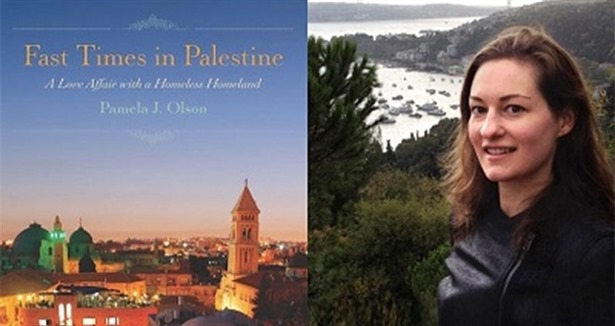 'Israel fuels violence to destroy Palestinian unit
Israel has deliberately triggered violence in order to fragment the unity government which has formally ended the split between rival factions Hamas and Fatah, said an internationally known US author.
'In fact, the violence was instigated by Israel to prevent the Palestinian leadership from unifying and creating a more representative government. Israel has been 'successful' in keeping the Palestinian leadership ineffective,' said Pamela Olson, the author of Fast Times in Palestine, an in depth look in political developments and daily life in the occupied territories.
'Fast Times in Palestine' focuses not only on violence, terror, and politics, but also on the daily rounds of house parties, concerts, barbecues, weddings, jokes, harvests and romantic drama that happens in between. In her book, Olson tells of her experiences during the course of two years, when she was a Ramallah-based journalist serving as press coordinator for Dr. Mustafa Barghouthi when he ran for presidential elections in 2004.
'But on the ground, people themselves have unified against the occupation that have strangled their lives. Netanyahu said that he will never allow the Palestinians to have a state. Most Palestinians have no faith in negotiating with Israel,' Olson said. 'Instead, they want to take the Israeli government to the International Criminal Court on charges of war crimes, because Israel has locked them into an open-air prison, provoked them repeatedly, and then rained death and hell on them.'
Olson said that the Israeli military has committed a crime against humanity in its Gaza campaign. 'Under international law, you cannot punish entire societies for the actions of a few individuals. The vast majority of the people in Gaza have nothing to do with violence. All of them have been placed under the blockade, which is collective punishment and therefore a war crime,' she said.
'Israel's attacks are incredibly disproportionate, considering how little damage Hamas rockets actually do and how much damage Israel's bombs do. Israel has already admitted during its previous assaults on Gaza and Lebanon that its aim is actually to 'exact a price' on the entire population for firing rockets. This is a collective punishment and a war crime.'
Touching on the US policy over the Israeli-Palestinian conflict, Olson also said that US has been 'Israel's lawyer' rathser than an honest broker between Israel and the Palestinians. 'Israel has a very powerful lobby in Washington and the Palestinians don't. So the Congress almost always supports Israel -- no matter what it does,' she said. 'The peace process has never been a real thing. Palestinians were never treated as equals or given a real say. They are getting very tired of this game.'
Olson believes that restrictive trade practices and a boycott targeting Israel is a 'must' to push the Israeli government to end the relentless strikes in the besieged Palestinian enclave. 'But, it's not easy to apply serious measures to boycott or sanction Israel. The United States pressures anyone who tries to do this. If many countries stood up at once, the United States government would not be able to do anything to stop them,' she said.
The author and journalist,Olson, also said that the Israeli government is actually terrified that if one group or country successfully opposes them, others will follow. 'So, we must individually refuse to buy products whose profits contribute to the occupation. We must put heavy pressure on our governments to urge them to stop military cooperation with Israel; so creating an international boycott could turn into an avalanche of defiance and condemnation of Israel's policies all over the world,' she said.
9 years ago