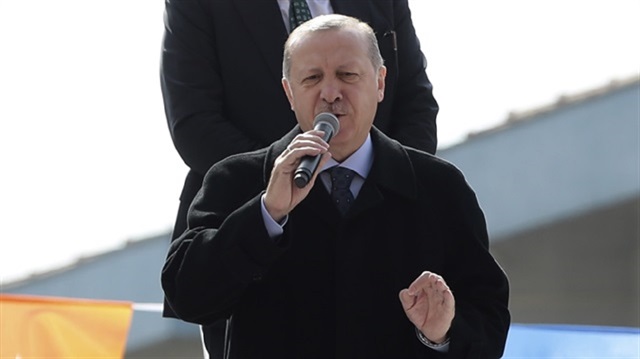 Turkish President Recep Tayyip Erdoğan on Sunday in southern Adana said that Israel was a terror state after Prime Minister Benjamin Netanyahu criticized Turkey's Afrin operation in northwest Syria.
"He said our soldiers were persecuting innocents in Afrin. Netanyahu, you are very weak, you are very strange. First, pull yourself together. We are dealing with terrorists, but your issue isn't terrorists. Because you are a terror state," he said.
Operation Olive Branch continues
"We're sucessfully carrying out Operation Olive Branch in the Afrin region with the aim of stopping attacks from Syria on our country. We're now at a good place. On the the 58th day of the operation, which coincided with the anniversary of the Çanakkale victory, the city center of Afrin was seized on March 18. Now the campaign continues in Tal Rifaat and other regions. May god have mercy on the souls of our soldiers, our brothers from the Free Syrian Army (FSA) and our veterans who were martyred," he said.
"So far, 3844 terorists have been neutralized in Afrin," he added.
Operation Olive Branch was initiated on Jan. 20 in Afrin to establish security and stability, eliminate PKK/KCK/PYD-YPG and Daeshterrorists, and save locals from their oppression and cruelty.
The operation is being carried out under the framework of Turkey's rights based on international law, UN Security Council resolutions, its self-defense rights under the UN charter, and respect for Syria's territorial integrity.
The military said it is putting the "utmost importance" on not harming any civilians.
Afrin has been a major hideout for the PYD/PKK since July 2012, when the Assad regime in Syria left the city to the terror group without putting up a fight.
The PKK is listed as a terrorist organization by Turkey, the European Union and the United States. The PKK has been conducting armed violence in the southeastern part of Turkey since 1984. More than 40,000 people, mostly civilians, have been killed in the three-decade long conflict.