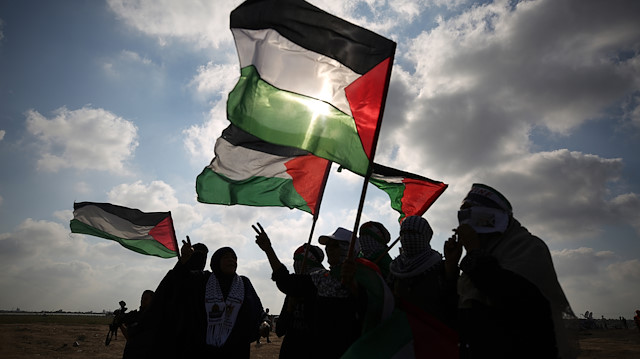 The Israeli army is investigating the deaths of 11 Palestinians killed last year while taking part in ongoing protests along the Gaza-Israel buffer zone, according to Israeli media reports.
"The [Israeli army's] legal division has launched five separate criminal investigations into the deaths of 11 Palestinians within the context of the yearlong Gaza border crisis," Israeli daily The Jerusalem Post reported.
The first probe is looking into the death of Abad al-Nabi, a Palestinian man who was shot in the back while taking part in the rallies, and three other Palestinian protesters killed on March 30 of last year.
The second and third investigations are examining the deaths of five other demonstrators near Jabalia and Al-Bureij in April and May of last year respectively.
A fourth investigation is looking into the death of Palestinian paramedic Razan al-Najar on June 1 of last year, while a fifth probe is examining the death of 14-year-old Othman Halas on July 13 of last year.
In February, a UN commission of inquiry declared that Israel's deadly 2018 crackdown on Palestinian protesters "may constitute war crimes or crimes against humanity".
In May, the UN Human Rights Council tasked the commission with investigating alleged rights abuses in the Palestinian territories, with a focus on the ongoing Gaza protests.
Since March 30 of last year, Palestinians have been staging regular anti-occupation demonstrations along the Gaza-Israel buffer zone.
Since the rallies began almost one year ago, more than 250 Palestinians have been killed by Israeli army gunfire.
Protesters demand the right of Palestinian refugees to return to their homes in historical Palestine, from which they were driven in 1948 to make way for the new state of Israel.
They also demand an end to Israel's ongoing blockade of the Gaza Strip, which has gutted the coastal enclave's economy and deprived its roughly two million inhabitants of many basic commodities.