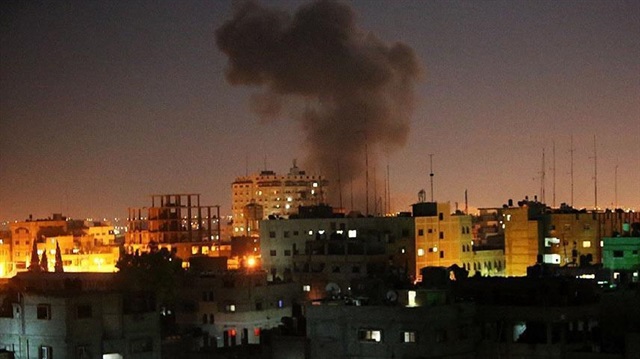 Israeli army warplanes on Saturday struck targets in the blockaded Gaza Strip, the army announced.
In a statement, the Israeli army confirmed that "explosions heard in the northern Gaza Strip are the result of Israeli operations there."
The attack came after Israel announced it will close the Kerem Shalom (Karem Abu Salem) crossing between Israel and the Gaza Strip until further notice.
"Due to the destruction of the Kerem Shalom Crossing on the Palestinian side, the Minister of Defense, Mr. Avigdor Liberman, approved the recommendation to close the crossing," the army said in a statement.
Eyewitnesses, meanwhile, reported that Israeli warplanes targeted an open area of land in the town of Beit Hanoun in the northern Gaza Strip.
Palestinian medical sources, for their part, said the Israeli attack did not cause any casualties.
Tension has grown across the Palestinian territories since Dec. 6, when U.S. President Donald Trump officially recognized Jerusalem as the capital of Israel.
Since border rallies began on March 30, at least 48 Palestinians have been martyred -- and hundreds more injured -- by cross-border Israeli army gunfire, according to the Health Ministry.
Protesters are demanding the right to return to their homes in historical Palestine, from which they were driven in 1948 to make way for the new state of Israel.
The border rallies will culminate on May 15 (next Tuesday), which will mark the 70th anniversary of Israel's establishment -- an event Palestinians refer to as the "Nakba" or "The Catastrophe."