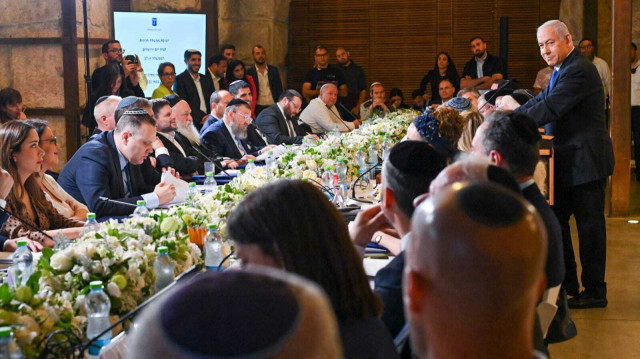 The Israeli government held its weekly meeting on Sunday inside the Western Wall [Al-Buraq Wall] tunnels of Al-Aqsa Mosque complex in occupied East Jerusalem.
The meeting, headed by Prime Minister Benjamin Netanyahu, was held inside the tunnels to mark the anniversary of Israel's occupation of East Jerusalem in 1967.
"For the sake of the unity of Jerusalem, we must continue to maintain this government," Netanyahu said at the start of the meeting.
Sunday's meeting was the first to have been held inside the tunnels adjacent to Al-Aqsa complex since 2017.
It came shortly after far-right National Security Minister Itamar Ben-Gvir forced his way into Al-Aqsa Mosque complex on Sunday, in his second such intrusion since he joined the Netanyahu government late last year.
Al-Aqsa Mosque is the world's third-holiest site for Muslims. Jews call the area the "Temple Mount," claiming it was the site of two Jewish temples in ancient times.
Israel occupied East Jerusalem, where Al-Aqsa is located, during the 1967 Arab-Israeli war. It annexed the entire city in 1980, in a move never recognized by the international community.
10 gün önce