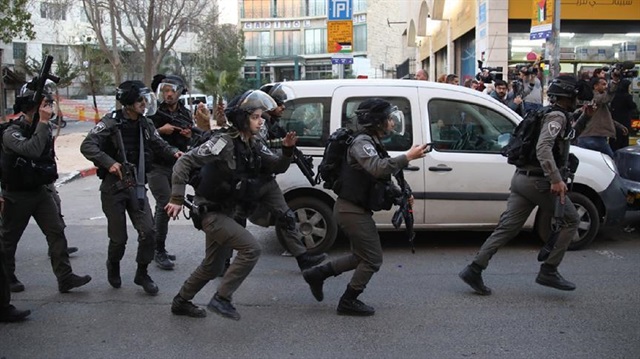 Israeli troops on Saturday injured four Palestinians in East Jerusalem during protests against the U.S. recognition of Jerusalem as Israel's capital, the Palestinian Red Crescent said.
According to a statement, four people, including a first aid officer of the Red Crescent, were injured by the Israeli police.
The troops used sound bombs against Palestinians protesting at Salah e-Din Street, one of the main streets of East Jerusalem.
The Israeli police has not issued a statement on the incident.
During demonstrations in Nabi Saleh village, north of Ramallah in Israeli-occupied West Bank, Israeli forces used plastic bullets and tear gas against protesters.
Speaking to Anadolu Agency, father of detained 16-year-old Palestinian activist Ahed al-Tamimi, Basim al-Tamimi said that at least 500 Palestinians attended protests in the village.
The number of injured Palestinians could not be confirmed.
On Dec. 19, Israeli forces detained Ahed in Nabi Saleh. Her mother and cousin were arrested shortly afterward.
The latest case is not Ahed's first brush with the Israeli authorities. In 2012, Istanbul's Basaksehir Municipality awarded her the Hanzala Courage Award for defying Israeli soldiers who had just arrested her brother.
Then Turkish Prime Minister Recep Tayyip Erdoğan met Ahed to personally convey his admiration.
Tensions have been high in the Palestinian territories since Dec. 6, when U.S. President Donald Trump recognized Jerusalem as Israel's capital, triggering condemnation and protests from across the Arab and Muslim world.
Since then, 12 Palestinians have been martyred -- and thousands injured -- in clashes with Israeli security forces in the West Bank, East Jerusalem and Gaza Strip.
Jerusalem remains at the heart of the perennial Middle East conflict, with Palestinians hoping that East Jerusalem -- occupied by Israel since 1967 -- might eventually serve as the capital of an independent Palestinian state.