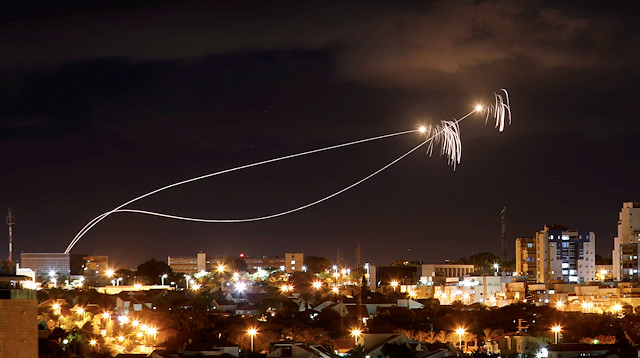 Iron Dome anti-missile system fires interception missiles as rockets are launched from Gaza towards Israel as seen from the city of Ashkelon, Israel October 27, 2018.
The Israeli military is on high alert over its U.S.-funded "Iron Dome" air defense system, which shot to international fame, after it seems to have been overwhelmed by the intensity of Palestinian missiles.
The anti-rocket system intercepted only 100 out of 460 missiles fired from the Gaza Strip into Israel by the Palestinian resistance group Hamas in last three days, according to reports.
Over the course of the last three days, at least 14 Palestinians in have been martyred in Gaza -- by Israeli airstrikes and artillery -- across the blockaded Palestinian territory.
On Sunday night, an Israeli officer was killed -- and another injured -- in a botched ground operation in Gaza.
Tensions appeared to ease slightly late Tuesday after Israel and Gaza-based resistance factions agreed to an Egypt-brokered cease-fire.
Palestinians renew their missile system
Lieutenant-Colonel Jonathan Conricus, an Israel Defense Forces spokesperson, told reporters Palestinians upgraded their rocket system and that Israel assumes Hamas used Russian-made anti-tank guided missiles during their last airstrike.
Yeni Şafak daily's Hamas sources have also confirmed that the missiles were upgraded but refused to divulge the details about the new system.
Israeli Defense Minister Avigdor Lieberman on Wednesday abruptly resigned from his post one day after a ceasefire was reached between Palestinian resistance factions and Israel.
Scores of Israelis demonstrated outside the Knesset (Israel's parliament) on Wednesday to demand Netanyahu's resignation, accusing him of "betraying" the people of southern Israel.
5 yıl önce