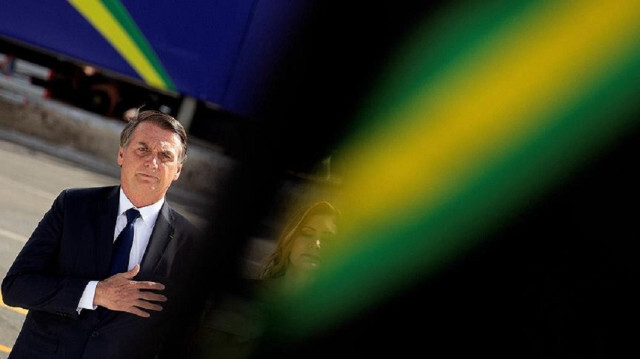 Former Brazilian President Jair Bolsonaro
Former Brazilian President Jair Bolsonaro, who left the country days before the inauguration of Luiz Inacio Lula da Silva, is expected to return March 30, his Liberal Party said Friday.
"We are waiting for you, Captain, to fight together for a more just and freer Brazil," the party wrote on Instagram, citing its head, Valdemar Costa Neto, accompanied by an image of him and Bolsonaro embracing.
Bolsonaro has spent three months in the American state of Florida after his narrow defeat to Lula in a second-round run-off for Brazil's presidency in October.
His lawyer, Felipe Alexandre, described Florida as "his temporary home away from home," as Bolsonaro reportedly applied for a six-month visa in January -- a move which received pushback from Democratic lawmakers in the US.
Bolsonaro's push for the visa followed the invasion and ransacking of Brazil's three powers of government Jan. 8.
His supporters managed to invade and ransack the Planalto Palace, or President's Office, Congress and the Supreme Federal Court -- until they were contained by security forces.
It resulted in detractors accusing Bolsonaro of undermining Brazil's democracy and encouraging the events.
Lula alleged that Bolsonaro rallied his base on social media and through public speeches -- a charge Bolsonaro denied.
The far-right politician was in Orlando, Florida, the following day after experiencing abdominal pain
Bolsonaro is still being investigated by authorities concerning the Jan. 8 events.
The former president is expected to give testimony as part of an investigation into allegations that he attempted to illegally bring $3.2 million worth of luxury jewelry into the country, according to Justice Minister Flavio Dino.
Earlier this month, Lula's administration urged authorities to investigate allegations whether Bolsonaro and his entourage may have tried to avoid declaring the expensive jewelry from the Saudi Arabian government to Bolsonaro and his wife in 2021. The items were seized by customs officials in October of that year after being discovered in a backpack of a government aide.
Dino did not provide a deadline for Bolsonaro to testify, however, Bolsonaro has denied the allegations, having handed them over to a state bank after a request by authorities.
2 months ago