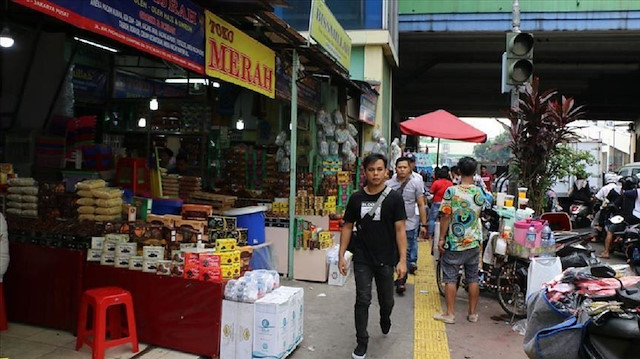 A chance encounter with an old woman was the inspiration behind the idea for a restaurant in Bogor City that provides as many as 300 hundred "free" meals every day to those in need.
Ciangsana Free Restaurant, named after the street where it is located in Gunung Putri, a district in the city in West Java region of Indonesia, serves fish, eggs, and chicken. Sometimes, it also serves beef and mutton.
"Every day I spend 1 million Indonesian rupiah (around $71) worth of groceries," said owner Aditya Prayoga.
Prayoga opened the restaurant with his wife Astie Luhur Fitriyani in 2016 at a time when his family faced economic difficulties. They had a baby boy and Parayoga was forced to sell Quran mp3 player devices in mosques for a living.
He saw an old woman looking through junk. She was limping and there was a wound on one of her feet that appeared to not have healed for a long time.
Prayoga helped her to her house and learned she lived alone as her husband and children have died.
When he returned home, he asked his wife to cook more and he delivered three meals every day to the old lady until she died two months later.
Prayoga said his life has changed since he began helping the old woman. And his financial situation has improved.
"My fortune has become very smooth. My goods sold better. I even once made 10 million rupiahs($711) in a day by selling the devices," he said.
Prayoga then opened a free restaurant in front of his house so that he could keep providing free food for people in need.
At first, he provided 50 servings a day.
"Those who come to eat were scavengers, street sweepers, garbage transporters," he said.
Even occasionally, he added, some scavengers and garbage collectors paid for their meals as contribution.
- Visited by former president, opening new store
His philanthropy work received the appreciation of many people and some even provided help.
Former Indonesian President Susilo Bambang Yudhoyono and his wife had visited the restaurant for coffee and small talk.
In the middle of this year, Prayoga found a bigger place of around 150 square meters for his restaurant on the roadside.
"I got to rent this place for free for five years," he said.
Because of its location, more people come to eat at the new restaurant.
When Anadolu Agency visited the place, students, bike taxi drivers, and office workers were enjoying their meals, some even came with family.
"Anyone can eat here. There is no requirement to be poor or have to contribute. Muslims or non-Muslims can also eat here," said Prayoga.
Prayoga is currently focusing on running his new business, selling detergent and linen perfume for laundry services while groceries and kitchen works are handled by his mother.
He also hired two orphaned teenagers to serve and take care of the restaurant.
Despite having an operating cost of around 1 million rupiahs (around $71) every day, Prayoga claimed that he never asked for donations.
"But when someone is willing to donate, I accept it," he said.
Prayoga added that donations sometimes came from several nearby restaurants which provided vegetables or side dishes.
He admitted that his restaurant has never closed because of lack of money. Even when he was short of cash, he still opened the shop and served simple fried rice.
"I also provide rice, instant noodles, and eggs. Anyone can cook on their own."
Though it remains open seven days a week, the workers in the restaurant do not cook on Saturdays and Sundays, so people have to cock themselves if they want to eat, according to Prayoga.
He also guaranteed that he always provides fresh food every day as the restaurant never keeps leftovers.
The owner said he distribute leftovers at the end of the day among needy people around his neighborhood.
Prayoga claimed that he never feels afraid of loss or poverty.
"Alhamdulillah, the more I give alms, the more I get sustenance from unexpected sources," he added.