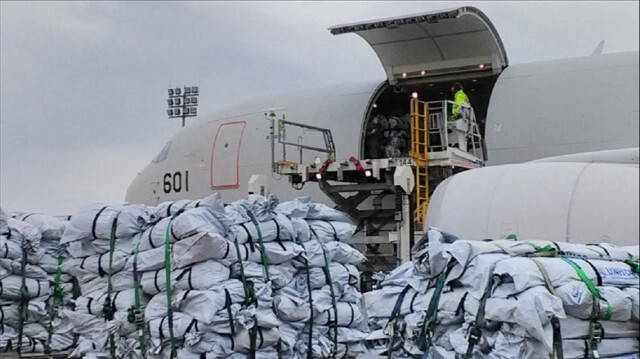 Japan sends relief aid to Türkiye as part of NATO-coordinated air-bridge
As part of a NATO-coordinated air-bridge, Japan sent relief aid to quake-hit Türkiye, the military alliance said on Saturday.
"Japan's decision to deploy aid to Türkiye as part of a NATO-coordinated air-bridge is a historic first, and demonstrates again how Japan's cooperation with NATO helps to bolster international peace and security," NATO's spokeswoman Oana Lungescu said in a statement.
The statement said that the first shipment landed in Türkiye on Friday and "more planes carrying aid are due to arrive in Türkiye, as NATO Allies and partners continue to provide assistance following the devastating earthquakes in February."
On Feb. 6, magnitude 7.7 and 7.6 quakes struck 11 provinces — Adana, Adiyaman, Diyarbakir, Elazig, Hatay, Gaziantep, Kahramanmaras, Kilis, Malatya, Osmaniye, and Sanliurfa — in southern Türkiye, claiming the lives of 49,589 people.
"This is the first international emergency relief operation conducted by the Japanese Self-Defense Forces in cooperation with NATO, and more Japanese flights are planned for the coming days," the statement said.
"The earthquakes that struck Türkiye earlier this year were the deadliest natural disaster on Alliance territory since NATO's foundation," it said.
15 days ago