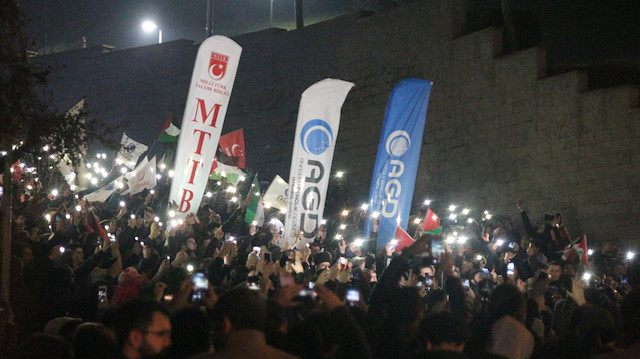 Turkish demonstrators poured onto streets across the country on Tuesday to protest U.S. President Donald Trump's long-awaited Middle East peace plan, which imposes strict conditions for Palestinians but grants broad control to the Israeli government.
Dozens of protesters and members of non-governmental organizations gathered in front of the U.S. Consulate in Istanbul, holding placards and shouting slogans decrying the proposal that designates Jerusalem as "Israel's undivided capital."
Many protesters at the rally held placards bearing slogans reading, "Jerusalem belongs to Islam."
On Tuesday, Trump announced his plan for Israeli-Palestinian peace at a White House event with Israeli Prime Minister Benjamin Netanyahu standing at his side.
Although Trump's stated aim was to end decades of conflict, the plan he advanced favored Israel, underscored by the absence of Palestinians from Trump's announcement.
Jerusalem is sacred to both Muslims and Jews, as it includes sites known to Muslims as Haram al-Sharif (The Noble Sanctuary), al-Aqsa Mosque and the Dome of the rock, as well as an ancient Jewish temple.
"Trump's so-called peace plan dubbed the 'Deal of the Century' is in Israel's favour and against the Palestinian people,"a protester said.
The so-called peace plan unilaterally annuls previous UN resolutions on the Palestinian issue and suggests giving Israel almost everything they have been demanding.
International law views the West Bank and East Jerusalem as "occupied territories" and considers all Jewish settlement-building activity there illegal.
Israeli Prime Minister Benjamin Netanyahu said Wednesday that the U.S. has set certain conditions on Palestinians for the start of negotiations, including recognizing the Jewish state, recognizing Israel's sovereignty over Jerusalem and giving up the absolute right to return.
He said the U.S. has demanded that Palestine disarm Gaza, drop payments to Palestinian detainees and martyrs' families, calling them terrorists, stop filing complaints at the International Criminal Court and not become a member of an international organization without Israel's approval.