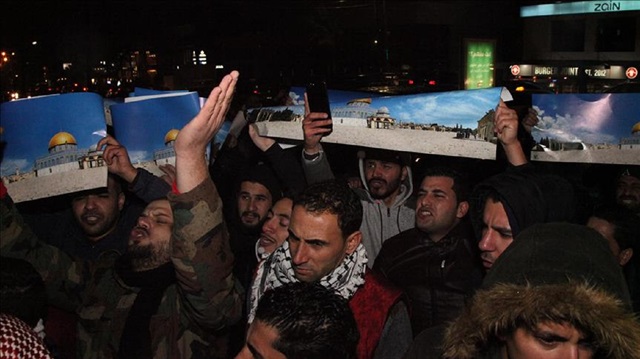 Jordanians on Thursday staged two separate demonstrations near the U.S. embassy in Amman to protest U.S. President Donald Trump's decision to recognize Jerusalem as Israel's capital.
Hundreds of demonstrators shouted angry slogans against the move, demanding the closure of the U.S. embassy in Jordan and calling for the annulment of the 1994 Wadi Araba Peace Agreement between Jordan and Israel.
Protesters waved Palestinian flags and images of Jerusalem's iconic Al-Aqsa Mosque, along with banners reading, "Jerusalem is Palestine's eternal capital" and "Jordanians reject this decision".
Hours after Trump announced the decision on Wednesday, hundreds of Jordanians took to the streets in Amman to register their rejection of the U.S. move.
In a related development, Palestinian President Mahmoud Abbas met with Jordan's King Abdullah II in Amman on Thursday to forge a joint response to the U.S. policy shift with a view to "safeguarding Jerusalem's holy places".
On Wednesday, Trump announced his decision to recognize Jerusalem as Israel's capital in a move that has drawn condemnation from both government and non-government actors across the Middle East.
Along with setting the U.S. at odds with much of the international community, the move reverses decades of U.S. Middle East policy and will likely damage efforts to restart Israel-Palestine peace talks.