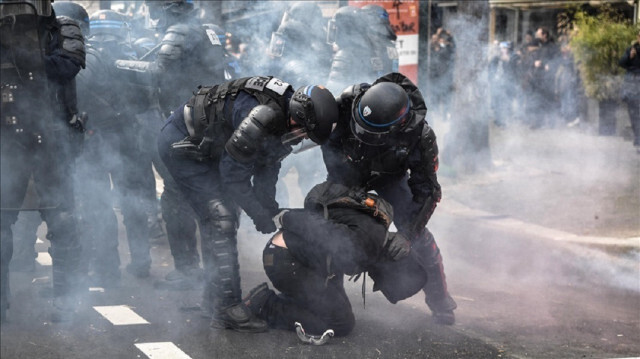 Keeping the British king's visit to France amid protests would not have been responsible, the French president said Friday in Brussels, after an earlier announcement that the visit would be rescheduled.
Emmanuel Macron in a news conference after an EU summit recalled that trade unions in France announced a new day of protests for March 28, coinciding with King Charles III's planned visit.
Proposing the king to keep the visit would not have been responsible and would have lacked common sense, Macron noted.
France has seen violent protests over the past week, in Paris and many other cities, with millions objecting to the government's pension reform.
The mass mobilization would have continued despite the king's planned visit for March 26-29.
The French presidency earlier announced that the visit will be rescheduled.
- Possibility to appease tensions amid protests
Asked about the French Democratic Confederation of Labor trade union leader Laurent Berger's call to pause the pension reform overhaul, Macron said: "I thank him for his will of appeasement, that I share as well."
"I am at the disposal of the trade unions if they want to come to see me," to discuss subjects regarding the working conditions, he continued.
He added, however, that the pension bill is being reviewed by the constitutional council, not mentioning a possible withdrawal of the bill, as trade unions would like.
Macron condemned the protesters who violently targeted police officers, and said: "In a democracy, we do not have the right to violence."
He acknowledged that the work of the security forces is very difficult in cases of extreme tensions during those periods, but did not evoke anything regarding the disproportionate cases of intervention.
- Relentless protests in France
Protesters continued their scattered action against Macron's pension reform after mass demonstrations the previous day.
The government last week used special constitutional powers to adopt the draft bill without parliamentary consent, which intensified the opponents' anger.
The reform would raise the retirement age from 62 to 64.
2 months ago