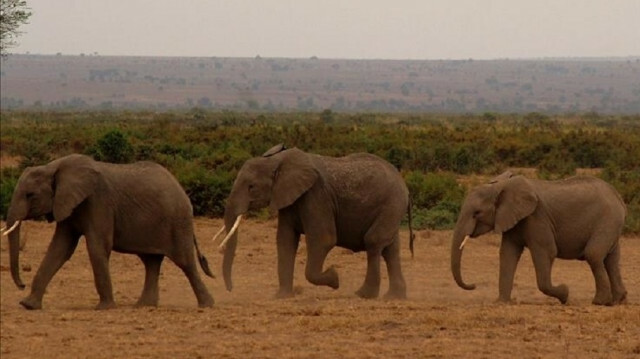 A man perches atop a vehicle in Amboseli National Park, in the foothills of fabled Mount Kilimanjaro, aims down the telescopic sights of a gun while adjusting its butt to fit perfectly into his shoulder.
His gun is aimed straight at a family of elephants that the International Union for Conservation of Nature (IUCN) has classified as "vulnerable" and put on the endangered species red list.
The man takes a deep breath as his finger curls around the trigger; seconds later, he fires, almost silently, sending one elephant scampering through thick bushes away from a herd of roughly 35 elephants.
A few minutes later, the woozy, majestic tusker lies down slowly on its side and falls asleep in an open field.
The veterinarian, who used the tranquilizer gun to put the animal to sleep, signals a team from the Kenya Wildlife Service to rush into the area, where the majestic pachyderm is lying down fast asleep as the giant-strength sedative takes effect.
The wildlife service team is out on a mission to fit satellite-linked GPS collars on the tusker so that they can be stay one step ahead of poachers, but they have only 20 minutes to do so after the sedative has kicked in.
The female elephant is quickly fitted with an advanced Savannah Tracking satellite-linked GPS collar, with up to a dozen personnel, ground vehicles, and a Kenya Wildlife Service helicopter involved in the procedure.
After the collar has been fitted, the veterinarian gives her an antidote and everyone withdraws to a safe distance, leaving her in an open space.
She wakes up from her nap seemingly oblivious to her surroundings, still lying on the side, and grabs a patch of grass close to her tusks and chews it.
Then it dawns on her that she has been separated from her calf and her family. The huge tusker stands up and instinctively heads in the direction where the herd is waiting for her, just a few hundred meters from where the collar was fitted.
- Protection from poachers
Patrick Omondi, the CEO of Wildlife Research and Training Institute in Kenya, told Anadolu Agency that the elephants are collared to protect them from poachers and keep them out of areas populated by people.
"We collared a female elephant, and (using it) we should be able to monitor real-time movement between this park and also the conservancies," he explained. "(We should) be able to easily intervene on issues of human-wildlife conflicts and security, and also know when they've crossed the border and when they're back for effective management."
When the wildlife officers spot elephants moving into populated areas, they can move quickly to herd them away, he said, adding that the collars also monitor the animals' behavior, which will benefit future scientific research and conservation efforts.
"We use technology so that we can track these animals in the day and at night," Omondi said.
Due to the current drought, "now they have to range for longer to look for water and better grazing," he added.
"The elephants are large-ranging, they can travel even 350 kilometers (217 miles) in a single day," he explained.
If they reach settlements, this causes conflict, he explained, but "if we have the collar that we fitted today, we should be able to know where they are," whether day or night.
The team can respond quickly and easily to ensure a harmonious coexistence between people and elephants, he asserted.
"For us, as Kenya Wildlife Service, the concern is the security of the animal, the security of the people around there," said John Waweru, the service's director-general. The collars are needed so they can track particular animals and see other animals in the group, he added.
The Amboseli National Park currently has over 3,000 elephants, according to the Tourism and Wildlife Ministry.
The East African country has about 34,000 elephants, a number that has been growing steadily at a rate of 2.8% per year for the past three decades.
In another hopeful sign, poaching has plummeted 96% in the last several years, with only 11 elephants poached in 2020 compared to 386 in 2013.
قبل٪ s