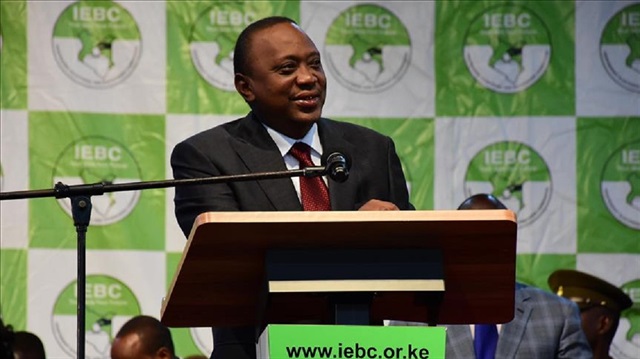 President Uhuru Kenyatta was sworn into office for a second term Tuesday following disputed elections.
Kenyans filled the 60,000-capacity Kasarani stadium in capital Nairobi, with organizers saying an extra 40,000 had flocked to witness the ceremony to inaugurate Kenya's fourth president.
Many were decked in outfits of black, red and green to mirror the national flag while others wore traditional clothing.
The ceremony, led by Chief Justice David Maraga, was also witnessed by the heads of Uganda, Djibouti, Rwanda, Botswana, South Sudan, Gabon, Somalia, Zambia, Ethiopia and Israel.
Kenyatta was sworn in using the Bible used to swear in his father, first President Jomo Kenyatta, in 1963.
Reading his oath, he swore to "protect and uphold the constitution, sovereignty and dignity of the people of Kenya".
His remarks were greeted by cheers in the stadium but elsewhere in Nairobi police fired tear gas and water cannon to disperse opposition supporters who blocked roads and set fire to tires.
They had gathered near the Jacaranda grounds, where the opposition National Super Alliance planned to hold a memorial service for dozens of people killed in election protests since August.
Kenya's election crisis saw the Supreme Court nullify August's results on the grounds of irregularities, following a legal challenge by opposition leader Raila Odinga.
A re-run last month was boycotted by Odinga and his supporters as they called for electoral reform.
The Kasarani stadium was surrounded by tight security for what Odinga has called Kenyatta's "coronation".
In a statement, Odinga called for Kenyatta to recognize him as the legitimately elected leader.