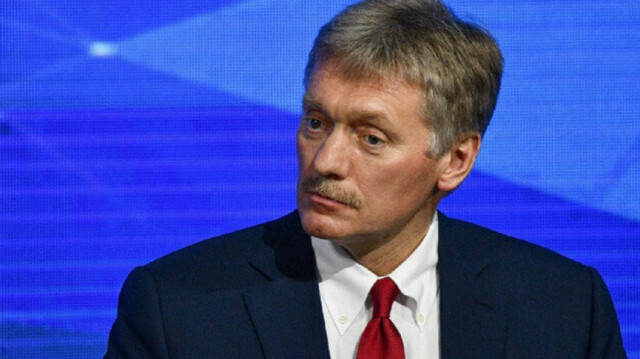 Kremlin spokesman Dmitry Peskov
The Kremlin on Wednesday said the ongoing confrontation between Russia and the West will last for a long time.
Asked if Russia's "special military operation" in Ukraine may end this year, spokesman Dmitry Peskov said: "If you mean a war in a broad context -- a confrontation with hostile states, with unfriendly countries, a hybrid war that they have unleashed against our country -- then this is for a long time."
As for the time period of the "special military operation" in Ukraine, it is better to ask the Defense Ministry, the spokesman said at a press briefing in Moscow.
Since the war started last February, the West has given Ukraine unprecedented support, providing finance, weapons as well as humanitarian aid.
On the contrary, it has imposed tough economic sanctions on Moscow such as export controls, oil embargo and a price cap on Russian crude.
Peskov wished success to Russian soldiers fighting in Ukraine's frontline city of Bakhmut, saying they show "miracles of heroism."
The main goal of Russia is to ensure its security in general and the safety of residents of "new regions" in particular, he said, referring to four Ukrainian regions where Moscow took control after "sham" referendums last year.
The spokesman said goals may be achieved through different means, but Ukraine has cut the possibility of political and diplomatic solution.
Commenting on attitude towards the "special military operation" in Russia, Peskov said: "We see an absolute consolidation of Russian society, and an unprecedented consolidation around the president, around the supreme commander-in-chief, around the policy he is pursuing."
According to Peskov, President Vladimir Putin does not plan to meet Rafael Grossi, the director general of the International Atomic Energy Agency (IAEA), who is currently visiting the Zaporizhzhia nuclear power plant (NPP).
The official said the IAEA chief is in constant contact with head of the Russian State Atomic Energy Corporation Rosatom over the situation at the Zaporizhzhia NPP amid fears of a nuclear disaster.
Peskov said Russia will continue interactions with the International Olympic Committee regarding the possibility of Russian athletes returning to international competitions. They were banned to compete in the sporting events after the war.
The spokesman characterized the ongoing US Summit for Democracy as an attempt to teach democracy to other countries.
"America, which, despite everything, still claims to be a world teacher on the issues of so-called democracy, is making a second attempt to bring together a number of countries as 'students' to lecture them about morals.
"Those who wanted to take part in this lesson, well it is their sovereign business, but here, in fact, many people see that such attempts to divide the world into first-class and second-class countries are now perceived by many with smiles," he said.
2 ay önce