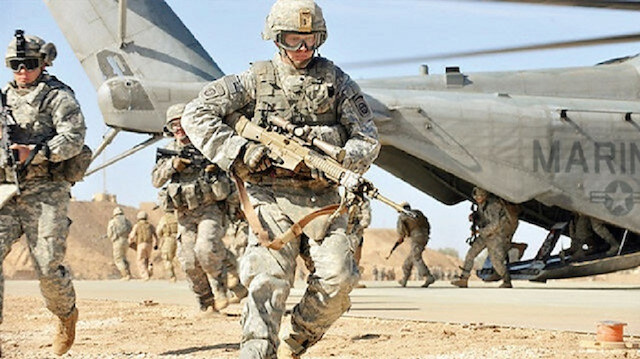 Significant changes have occurred in the deployment of foreign forces in northern Syria following the launch of Turkey's cross-border anti-terror operation.
With the launch of Operation Peace Spring on Oct. 9, the U.S. evacuated its bases in the operation area and prioritized deployment around oil fields.
Russia deployed troops in some of the military bases and points evacuated by the U.S. forces.
Russian forces are deployed in Sarrin, Sabit, Ayn Isa and Manbij's Saidiya bases, where previously the U.S. forces were positioned.
Russia sent around 20 police units to a military zone in the YPG/PKK occupied Amuda district in Hasakah.
Russia also deployed forces in Tishrin dam, Izaa point in Ayn al-Arab's northwest and Silos area located in Ayn Isa town in Ayn al-Arab's southeast.
Following the Russian forces, Syrian regime troops also entered the Silos area.
When Operation Peace Spring was ongoing, the regime forces also entered Manbij together with Russian forces.
Russia also expanded its presence at Qamishli Airport.
US still present in Hasakah, Deir ez-Zor, Raqqa
The U.S. forces evacuated 16 bases and military posts during Operation Peace Spring and returned to six bases as the operation was paused.
The U.S. army strengthened its military presence in Syria's northeastern border and oil fields.
With five bases and military posts in Hasakah province, the U.S. forces are conducting efforts to set up two other military posts in Qahtaniyah town and Himo village in Qamishli city.
The U.S. aims to both secure oil fields in Hasakah and strengthen its presence on the Turkish border with the military posts.
The U.S. forces are currently deployed at 11 bases and military posts, including five in Hasakah, four in Deir ez-Zor and two in Raqqa.
They also carry out efforts to set up two new bases in Deir ez-Zor.
French presence in region
France is currently present at four military posts in Deir ez-Zor, Hasakah and Raqqa cities.
Using all of the military posts they deployed together with the U.S. soldiers, French forces can only mobilize under protection of the U.S. army and YPG/PKK terrorists.
France has around 200 soldiers in areas under YPG/PKK occupation.
French soldiers, who stood against Daesh/ISIS during clashes in Deir ez-Zor, are now training YPG/PKK terrorists.
French army lists the areas under YPG/PKK occupation as Cibse houses in southern Hasakah, a sugar factory base located in north of Raqqa's center, Omar oil fields and Tanak oil and gas fields in Deir ez-Zor.
With the start of Operation Peace Spring, France evacuated military posts in Raqqa's Tabka district, Ayn al-Arab and Manbij districts where it was deployed along with the U.S. soldiers.
Turkey launched the operation to eliminate YPG/PKK terrorists from northern Syria east of the Euphrates River in order to secure Turkey's borders, aid in the safe return of Syrian refugees and ensure Syria's territorial integrity.
Under two separate deals with the U.S. and Russia, Turkey paused the operation to allow the withdrawal of YPG/PKK terrorists from a planned Syrian safe zone.
Ankara wants YPG/PKK terrorists to withdraw from the region so a safe zone can be created to pave the way for the safe return of some two million refugees.
In its more than 30-year terror campaign against Turkey, the PKK -- listed as a terrorist organization by Turkey, the U.S. and the European Union -- has been responsible for the deaths of 40,000 people, including women, children, and infants. The YPG is the PKK's Syrian offshoot.
#
cross-border anti-terror operation
4 years ago