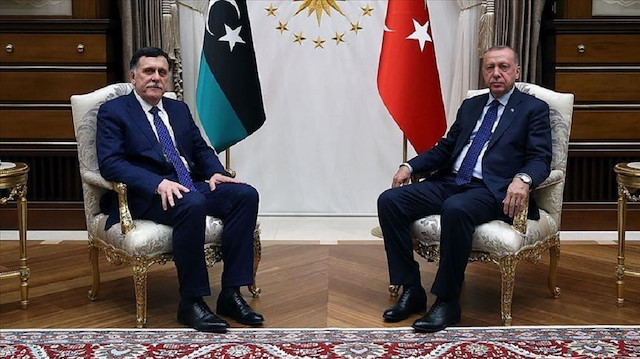 The Libyan Grand Mufti Sheikh Sadiq Al-Ghariani has hailed the move of his Government of National Accord (GNA) to reach a maritime memorandum of understanding with Turkey.
Quoted by Libyan Observer late on Wednesday, al-Ghariani also urged the "Libyan authorities to accept Turkey's military support to repel warlord Khalifa Haftar and his foreign backers attacking the capital."
Since early April, forces loyal to Haftar launched a campaign to capture Tripoli from forces aligned with the UN-recognized GNA.
Turkish Foreign Minister Mevlut Cavusoglu said on Wednesday that "sending ground troops to Libya is not currently on Turkey's foreign policy agenda, but the country might consider to do so if the UN-recognized Libyan government makes such a request.
On Nov. 27, Turkey and Libya's UN-recognized GNA seated in Tripoli signed a bilateral memorandum.
The memorandum asserts Turkey's rights in the Eastern Mediterranean in the face of unilateral drilling by the Greek Cypriot administration, clarifying that the Turkish Republic of Northern Cyprus (TRNC) also has rights to the resources in the area.
Dec. 8 has been determined as the effective date for the landmark pact between Turkey and Libya's GNA.